Sony Cyber-shot HX200V Digital Camera Review
$479.99
Better than
84%
of Reviewed Digital Cameras

Hardware
Lens & Sensor
The HX200V comes equipped with a 30x zoom lens, with a 35mm equivalent range of 27-810mm and a respectable aperture range of f/2.8-5.6. There's a lens ring to electronically control zoom or manual focus depending on the focus mode, which is controlled by a toggle on the side of the lens barrel.
The sensor is an 18.2-megapixel Exmor R backside-illuminated CMOS sensor, in a standard, 1/2.3-inch point-and-shoot size. That's a lot of pixels for such a tiny sensor.
Viewfinder
The large size of the HX200V opens up room for a small, 201,000-dot electronic viewfinder. We've seen better, but it's typical of most superzooms at this price. It has an eye-level sensor and a diopter adjustment dial on the side.
Display(s)
The LCD is a 3-inch, 920,000-dot tilting (not articulating) screen—Sony brands it as Xtra Fine TruBlack, if that matters to you. It was generally bright enough to see in sunlight, though we usually just switched to the EVF if brightness or glare became a problem.
Flash
The pop-up flash is rated for nearly 41 feet of effectiveness at base ISO. There's no mechanical switch or lever to release it, so you'll have to activate it through the menu system (or, in auto mode, let the camera decide when it should fire).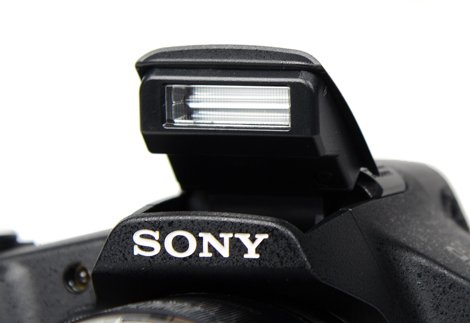 Connectivity
Like most cameras these days, the HX200V has a mini-HDMI port and a micro-USB/multi-purpose jack. Both are protected by a sturdy, hinged plastic flap on the left side of the camera. There's also a dedicated DC jack, housed behind a separate flap, also on the left side of the camera.
Battery
The HX200V runs on a removable, rechargeable InfoLITHIUM H series battery, rated for 450 shots per charge. That's a very solid number of shots per charge for a point-and-shoot.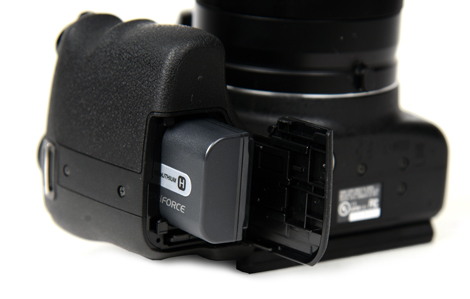 Memory
Like most recent Sony cameras, the HX200V accepts SD/SDHC/SDXC as well as Sony's proprietary Memory Stick media cards.