Sony Cyber-shot DSC-HX100V Digital Camera Review
$449.99
Noise
We perform our lab tests in almost the same order they're presented in the reviews, so naturally this camera's spectacular color score left us eager to measure the rest of its performance. Sadly the HX100V does not handle noise as well as it does color. In our standard 3000 lux test, artifacting ranged between a respectable 0.55% at the minimum ISO, to a destructive 1.81% at the maximum ISO. As early as one year ago this would've been an above-average result, but the competitive ultrazoom category has advanced quickly, and these averages now reside close to the bottom of the pack. More on how we test noise.
The results aren't much different in low light. Average noise is up by only 0.03%, a negligible amount, and noise reduction software appears to retain the same behavior which, by the way, is characterized by a slow increase in smoothing software across the entire ISO spectrum. We always test fixed-lens cameras at the default noise reduction setting, since we don't imagine many novices will change it, plus most models don't offer precise control anyway. The HX100V's noise reduction comes in three flavors: standard, plus, and minus. Our scores reflect the standard setting.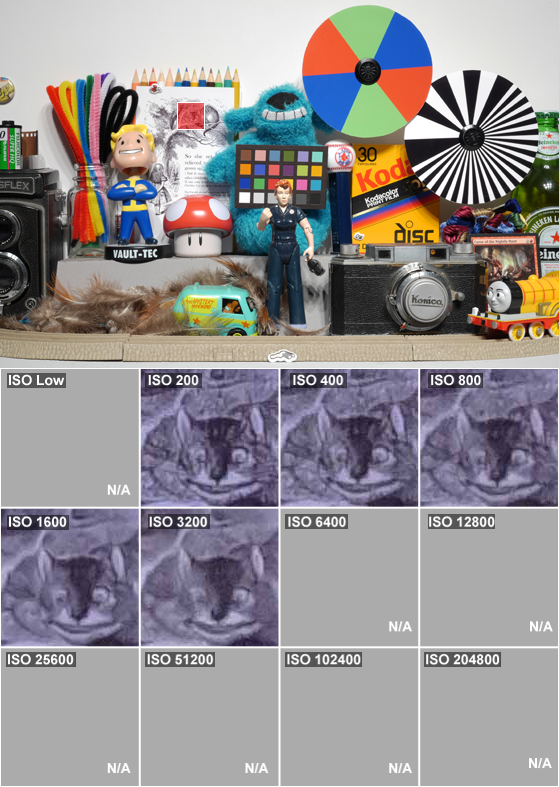 Sometimes, our noise test picks up artifacts that the human eye wouldn't, and the scores disagree with a real world visual scan. Such is not the case this time. In the face crops below, notice that the HX100V introduces visible grain and pixellation as early as ISO 200, while the FZ150 and SX40 HS are still producing rock-solid edges at ISO 800.
ISO
The HX100V's complete ISO range is extremely extensive, and includes every third-stop setting between 100 and 3200. The full list is...100, 125, 160, 200, 250, 320, 400, 500, 640, 800, 1000, 1250, 1600, 2000, 2500, and 3200. Phew. Mercifully, no extended ISO levels are available.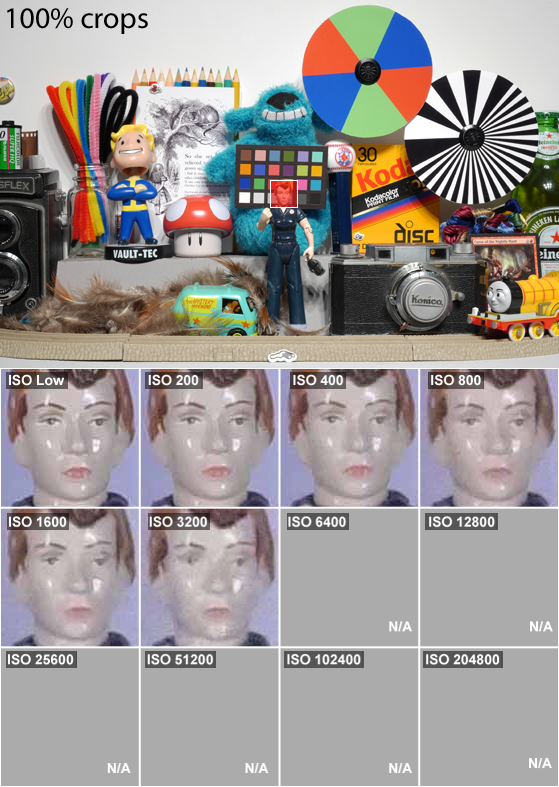 NOTE: The images above are not used in our testing or scoring, but are included here to show real-world examples of the differences between cameras at the various ISO settings.