Sony Alpha SLT-A37 First Impressions Review
Modes Overview
The Sony Alpha SLT-A37's mode dial has all the usual PASM modes, as well as shooting options for video, a 7FPS continuous mode, auto, superior auto+, 3D, sweep panorama, no flash, and scene modes. The mode dial has just enough resistance on it to protect from accidental switches, though it's out of the way enough that this is rarely a problem.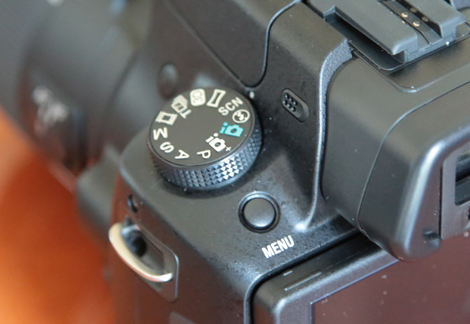 Auto Mode
The Sony A37 has two main automatic modes (in addition to the standard program auto mode). The basic automatic mode will adjust exposure automatically to compensate for brightness in the scene. This is a pretty standard mode found on just about every DSLR. The A37 also features superior auto+, a separate auto mode that recognizes conditions in the frame and picks a specific scene mode to compensate.
Movie Mode
The Sony A37 features a movie mode that is nearly the same as last year's A35, save for the addition of a 1080/24p mode in addition to the 1080/60i resolution option that was already available. The camera can shoot in either AVCHD or .MP4 video, though, depending on whether you need to maintain quality or have an easy-to-edit compression format.
The A37 can utilize phase detection autofocus while recording video—a big plus over other non-Sony DSLRs—while also featuring a mic input and (by virtue of its SLT technology) focus peaking that makes manual focusing during video a breeze.
Drive/Burst Mode
The Sony A37 doesn't get an upgrade over the A35 in the speed department, featuring the same 5.5FPS continuous shooting speed at full resolution. If you're willing to bump resolution down to 8.4 megapixels, the mode dial features a dedicated high-speed tele-zoom mode that allows you to get a little extra zoom power, upping speed to a full 7FPS.
Playback Mode
The Sony Alpha A37 has a dedicated playback mode button on the back of the camera, just below the rear control pad. The camera allows for a full view of an image's information, including histograms. In addition, you can zoom in on a specific image up to 11.8x or zoom out to see an indexed view of multiple images at once. There are also options for slideshow playback, and playing back movies, as well as the usual options for protection and deletion.
Picture Quality & Size Options
The Sony Alpha A37 maxes out at 16 megapixels, with the maximum image resolution weighing in at 4912x3264. In addition, the camera includes options for 8.4 and 4-megapixel 3:2 images, as well as 14, 7.1, and 3.4-megapixel 16:9 images. The A37 captures JPEG and RAW images, with options for 3D and panoramic images, too.