Samsung SH100 Digital Camera Review
$199.99
Hardware
Display
The SH100 does not include a viewfinder, nor a hot shoe with which to attach one, so your only option for framing is the 3-inch LCD. This is a resistive touchscreen model and it's fairly responsive, certainly enough to navigate most menus without incident. 230,000 dots is plenty for a screen of this size on a camera of this price, and we found the monitor's color temperature was spot-on. Smudging is bound to occur on top of the screen's plastic coating, but the problem isn't as bad as some cameras we've tested, and never distracts from shooting or navigating menus.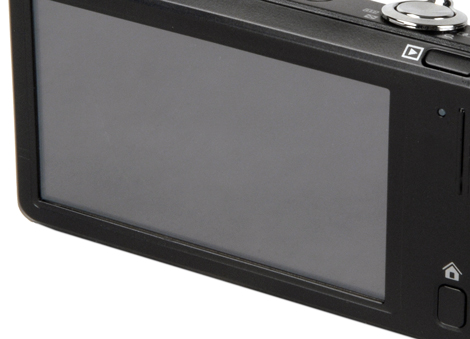 Flash
With a maximum range of only 3.2 meters, this camera's built-in flash is less effective than competitors. On the other hand, its physical placement is far out of the way of the right hand, and the feature set is robust, with options for red-eye reduction, fill in, and slow sync.
Lens
The Samsung-built lens isn't the sturdiest piece of equipment, and the plastic enclosure isn't weather or dust sealed either. We never experienced a problem with particles or sticking, but this is always a possibility in the sub-$200 bracket. Like most point-and-shoots, the lens cap is automatic.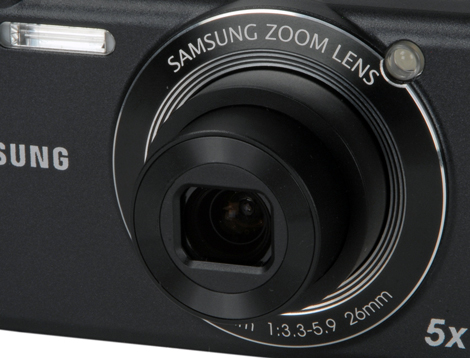 5x optical zoom is above average for this price range, and an additional 5x digital zoom is also available (for a total of 25x), although we never ever recommend using this feature.
Battery
The included lithium battery held a charge well in our time with the camera. Charging is accomplished via either a USB to AC socket adapter or, conveniently, by simply connecting the unit to a USB port. Samsung rates the battery's performance at approximately 220 photos or 90 minutes of video per charge.

Memory
MicroSD and microSDHC memory cards are supported for primary storage. Those are the less common, teeny-tiny cards that fit on the tip of a finger. In a pinch, 6.9 MB of internal storage is available in the camera itself, but this isn't enough for even a single full resolution shot.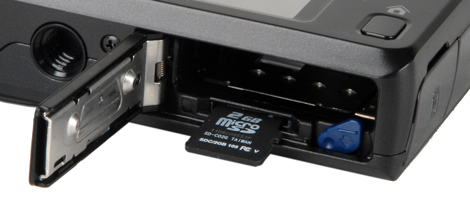 Jacks, Ports & Plugs
All external connectivity is accomplished through a USB socket on the lower right side of the body. While this makes battery charging simple, it makes output to a TV impossible. We also would have preferred a standard USB port, rather than a proprietary one.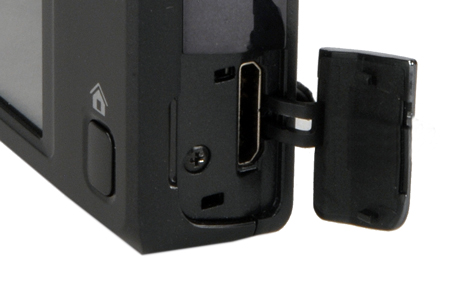 Other Hardware
Wi-Fi Transceiver
One of the SH100's intended selling points is wireless network capability. An 802.11 b/g/n internal antenna is housed inside the camera body, and it functions as designed. Unfortunately, that design left us scratching our heads.
From what we can tell, the software is only capable of using Wi-Fi for very specific purposes, such as uploading directly to Facebook, Picasa, and others; or using the remote viewfinder smartphone app, which could be fun for deploying the SH100 as an impromptu security camera. This means that the most basic and important functions, such as simply transferring files to a nearby computer, are absent. The device also failed to properly connect to networks on most occasions, leaving Wi-Fi an almost entirely ill-conceived and useless feature.