Samsung EX2F Digital Camera Review
$499.00
Better than
93%
of Reviewed Digital Cameras

Handling
Handling
In terms of physically handling the EX2F, we found the front control dial to be at once the camera's best control feature, and its most obnoxious ergonomic feature. This dial is great for choosing options quickly, but it gets in the way of the right middle finger and, since it's so loose, moving or depressing it accidentally happens all the time.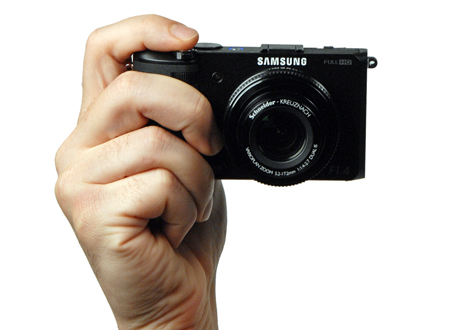 On the rear panel, we get a resting area for the thumb, but while this surface appears rubberized in pictures, it is in fact merely textured, and doesn't have any grip to it. The same is true of the large textured area on the front panel. True this will make the camera easy to slide in or out of a pocket, but the entire body is almost too large for that anyway, and all this adds up to an overall handling experience that is fairly clumsy.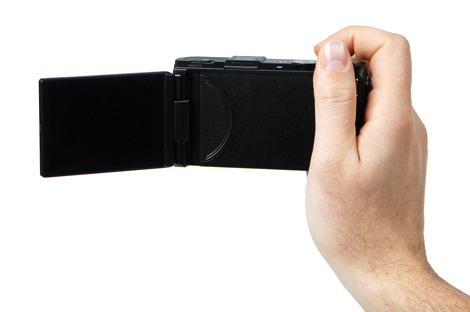 Buttons & Dials
The rear button layout is fairly traditional. There's a combination directional pad / rotating dial, with shortcuts at all four directions and a central "OK" key. This is flanked by four additional shortcut buttons for the main menu, function menu, playback menu, and delete. Above that, you'll find a dedicated video record button, as well as a handy exposure lock button too.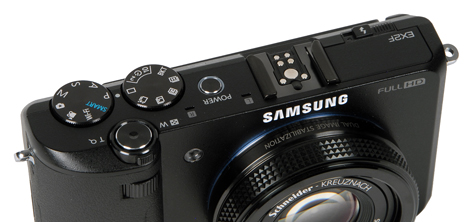 On the top panel, the control scheme is nearly identical to the EX1. Two function dials, one for shooting modes and one for drive modes, are within reach of the thumb. The shutter release is shallow, but easy to use.
Most importantly, on the front panel, molded into the right hand grip, is a rotating control dial. It's a bit loose, and does get in the way of your grip to a certain extent. The dial also has a secondary click function, used by pushing the whole dial straight back into the body.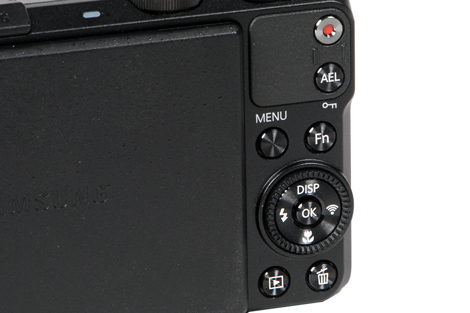 Display(s)
The absence of a viewfinder is another disappointment, but instead we get a beautiful 3.0-inch AMOLED monitor to work with. The panel has full swiveling capabilities, so it's possible to shoot straight-on from just about any angle. The screen is very bright, with an excellent viewing angle, but--like Samsung's TV's--reflectivity is a problem.
Image Stabilization
The EX2F features optical image stabilization, however the functionality is rather irrelevant, since maximum zoom is only 3.3x and the aperture opens up to F1.4. Still, we left stabilization turned on when we weren't testing, and couldn't detect any drop in image quality.