Panasonic TS3 Digital Camera Review
$399.99
Controls
Shooting Modes
The TS3 has five shooting modes, including an auto mode (Intelligent Auto), scene modes, video mode, 3D capture mode, and a program auto-exposure mode (called Normal Picture in the menu), which we used for almost all of our testing.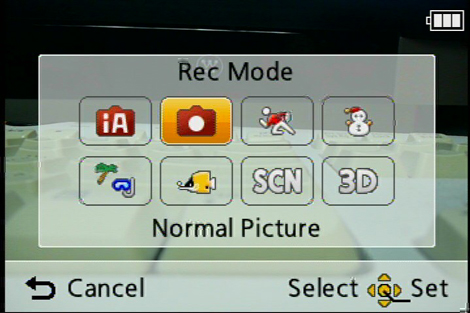 Scene Modes
By our count, the TS3 offers 21 scene modes (we count some settings as effects rather than scene modes). Some of the modes are throwaways, but at least a few of them are genuinely useful. Most of the common options are available, including Portrait, Scenery, Panorama Assist, and Pet. There are two Baby modes—users can assign a name and age to each (one per kid, we suppose), and it'll tag the shots for easier sorting. Since the TS3 is marketed as a rough-and-tumble, adventure-ready model, modes like Sports, Snow, Beach & Snorkeling, and Underwater get obvious call-outs in navigation system. The most helpful settings are those that expand the TS3's base-level abilities. High Sensitivity boosts the ISO range, Starry Sky expands the available shutter speed to 1 minute, and Handheld Night Shot combines a few images to reduce blurriness.
Picture Effects
Like any point-and-shoot worthy of shelf space at Target or Wal-mart, the TS3 offers a small handful of picture effects, though they're pretty weak compared to what some of its rivals offer. Pin Hole is the most interesting, washing out colors and blurring corners and edges for a retro look. Film Grain is really just another black-and-white mode. High Dynamic is supposed to resemble high dynamic range (HDR) photography, which stacks multiple exposures to create a rich, almost surreal image. This bargain-bin version just super-saturates colors and keeps the shutter open for too long. Transform is an even bigger waste of time. It cuts the resolution and stretches or squishes the shot horizontally. It's like a carnival fun-house mirror, without the fun part.
Manual Controls
The TS3 is geared for mostly automatic operation, which is what we expect from a camera like this. In program mode, it allows user control over settings like white balance, ISO sensitivity, and exposure compensation, but it does not have aperture or shutter priority modes.
Drive/Burst Mode
While the TS3 has no full-resolution continuous drive mode to speak of, it can churn out a respectable 2.4 frames per second over 7 frames. That isn't nearly as fast as what cameras with CMOS sensors (like the Sony TX10) can achieve, but it is considerably faster than most CCD-based camers, like the Pentax WG-1.
Shot to Shot ()
Panasonic advertises a 3.7fps burst rate, though the fastest that we could achieve was closer to 2.4 shots per second. Though it's short of the promised rate, it's still quite good for a point-and-shoot.