Panasonic Lumix DMC-FZ18 Digital Camera Review
$399.95
Read an expert, independent digital camera review of the Panasonic Lumix DMC-FZ18.
Related
Testing/Performance
Color* (11.07) *
To produce realistic, pleasing photos, a camera must be able to accurately reproduce color. We test color accuracy by photographing an industry standard GretagMacbeth ColorChecker chart and comparing the colors the camera reproduces with the known colors of the test chart. The ColorChecker chart consists of 24 tiles of colors from around the color spectrum, including common sky blues, foliage greens, and skin tones. The image below shows the colors the Panasonic FZ18 reproduces next to the actual colors of the ColorChecker. The outside squares show the colors the FZ18 reproduces, the inner squares show the actual colors of the chart corrected for exposure, and the inner, vertical rectangles show the chart colors at a perfectly even exposure. The FZ18 has most accurate colors when images are slightly underexposed.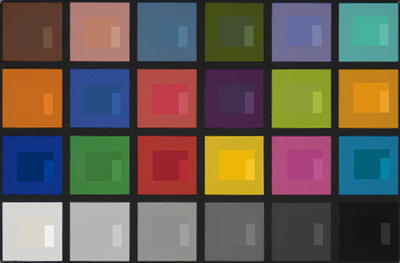 As you can see in the image, many of the outer squares blend right into the inner squares, meaning color accuracy is excellent. A few tiles, however, such as the yellows and blues, are not perfectly accurate. The graph below shows this information in a different way. The background represents the entire color spectrum, the locations of the actual ColorChecker colors are represented by squares, and the colors the FZ18 reproduces by circles. The magnitude of the lines connecting the squares and circles shows the extent of the color error for each tile.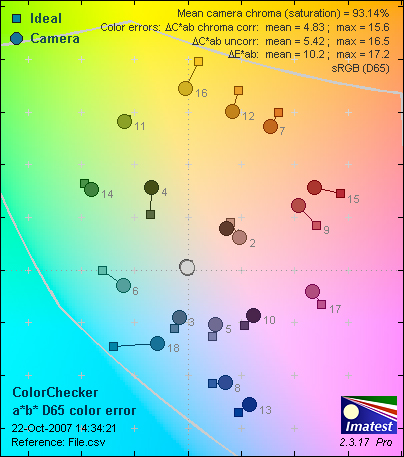 The graph confirms many of the color tiles are very accurate, with the exception of a few yellows, reds, and blues. Blues are shifted in most cameras to enhance blue skies, and yellows and reds are often shifted to make skin tones look nicer. The FZ18's colors look great in photos, and Imatest confirms its excellent color accuracy.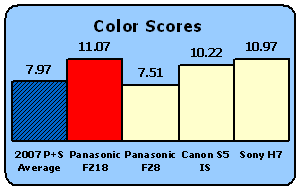 Resolution*(7.94) *
We test resolution by photographing an industry standard resolution test chart at varied focal lengths, apertures, and shutter speeds. We run the images through Imatest to determine how sharp the camera is, and what settings produce the sharpest images. Imatest determines resolution in terms of line widths per picture height (lw/ph), which represent the number of equally spaced, alternating black and white lines that can fit across the picture frame before blurring.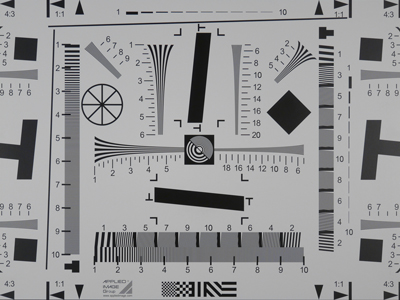 Click on the chart above to view the full-resolution file
The 8.1-megapixel Panasonic FZ18 shows its best resolution at ISO 100, f/3.6, and a focal length of 18mm. The camera resolves 2054 lw/ph horizontally with 9.2 percent oversharpening, and 1868 lw/ph vertically with 0.1 percent undersharpening. Not only are these impressive lw/ph scores, but the sharpening levels are very reasonable; the camera's processor makes photos even sharper without losing too much detail through abundant oversharpening. The FZ18's resolution is great at these settings and stays consistent using many other settings. The camera's photos stay very sharp at the edges of the frames, and there are few signs of image artifacts. Without bumping up the megapixel count to 10 or 12, the FZ18 retains excellent resolution performance through quality optics and strategic processing, and scores better than many higher-megapixel models.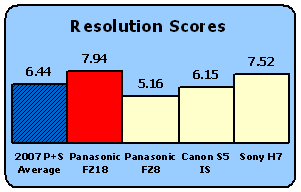 **Noise – Manual ISO ***(7.48) *
Image "noise" is the grainy or splotchy effect you can sometimes see on your photos, especially in low light or shadow areas. Noise is created within the camera itself, an unavoidable byproduct of the camera's electronics, similar in principle to the background hiss stereos produce. Unlike film grain, digital camera noise is almost always unwanted, as it often looks very ugly. We test noise levels by photographing our test chart under bright, even studio lighting at all ISO sensitivities. Imatest measures noise levels in terms of the percent of image detail it drowns out, usually ranging from 1 to 4 percent.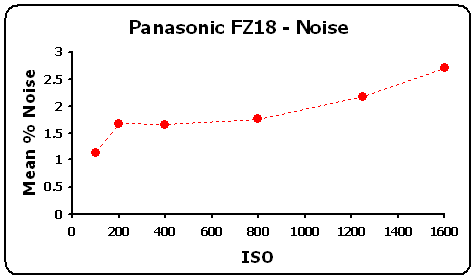 As you can see in the graph, the FZ18 keeps noise levels very low at ISO 100, then increases significantly at ISO 200 and rises steadily at higher ISO speeds. The noise levels up to ISO 800 are quite good on paper, but this is a bit misleading. Looking closer at the noise itself (click on the still life images farther down the page), you can see how splotchy and colored the noise is. It appears the noise was smoothed a bit, meaning less detail as well as splotchy-looking noise. The images aren't as badly smoothed as we have seen in other cameras, but the noise is unattractive. Keep this camera set to ISO 100 if you plan on cropping your photos or viewing them large.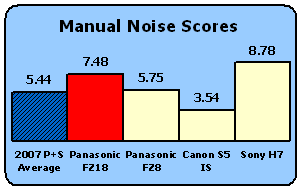 **Noise – Auto ISO ***(2.15) *
We also evaluate noise levels with cameras set to Auto ISO, under the same bright, even studio lighting used in the tests described above. The FZ18 chose ISO 125, which is a good choice for such bright lighting. The camera still produces a bit of noise, but it is hardly noticeable unless viewed very large. Its Auto noise score is about average for 2007 point-and-shoots.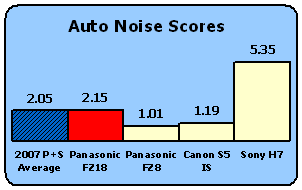 **White Balance ***(5.37) *
The FZ18 has fantastic color accuracy, but this is only relevant when the camera is white balanced properly. All types of light sources have different color casts, and cameras must be able to adjust accordingly. To test white balance accuracy, we photograph the ColorChecker test chart under four types of light: flash, fluorescent, outdoor shade, and tungsten. The FZ18 has an Auto white balance setting and appropriate presets, and we put them both to the test.
Auto (4.43)
For a camera with such good color accuracy, the FZ18's white balance accuracy is very disappointing. Using the Auto setting, the camera is mediocre under flash and fluorescent light, but very poor under outdoor shade and tungsten light. Tungsten light is often a major problem for cameras using Auto white balance, but the other light sources shouldn't be such a problem.


Preset (6.31)
Accuracy using the presets is a bit better, especially in tungsten light and outdoor shade, but still not nearly as accurate as we have seen in similar models. The flash preset was actually less accurate than the Auto setting, so keep this in mind when using flash. If you really need accurate white balance, use a white card and manually set the white balance. Also, this camera has the option of shooting in RAW, which means you can set the white point on your computer after you shoot.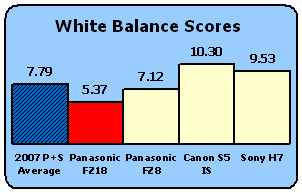 Still Life Sequences

***Click to view the high-resolution image

*

Low Light*** (6.80) *
We have seen how the FZ18 handles color accuracy and noise levels in bright studio light, but what about less-than-ideal shooting conditions? We test low light performance by photographing the ColorChecker at 60, 30, 15, and 5 lux. Sixty lux approximates the brightness of a room lit softly by two table lamps, 30 lux is as bright as a room lit by a single 40-watt bulb, 15 lux is as dim as a room lit by a television, and 5 lux is very dim and tests the limits of the sensor. All shots are taken at ISO 1600.
Color accuracy in low light suffers a bit, but is better than many cameras. Noise levels are quite high in low light at such a high ISO speed, which may occasionally be your only option to capture a dimly lit scene without blur or flash. The main problem with the FZ18 in low light is its inconsistent autofocus. At light levels of 30 lux and below, the camera can only lock focus about one-third of the time, regardless of the autofocus mode. This is incredibly frustrating, and means you'll have to keep prefocusing your camera to capture a sharp photo. We didn't see this problem in the camera's predecessor, the FZ8, and the FZ18 scores significantly lower.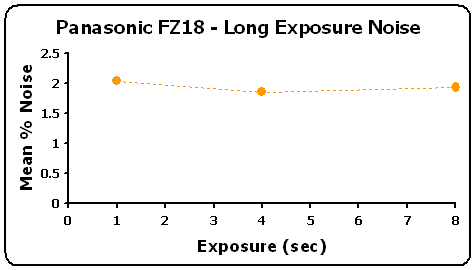 We also test low light performance with long exposures. Setting all cameras to ISO 400, we shoot the ColorChecker chart at slow shutter speeds. The FZ18's slowest shutter speed is eight seconds. Noise levels in long exposures are quite high, and color accuracy suffers, due in a large part to inaccurate Manual white balance at slow shutter speeds. Be careful of your white balance when taking long exposures with this camera.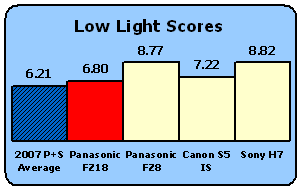 **Dynamic Range ***(6.21) *
Dynamic range is a very important image quality factor that describes the range of tones a camera can discern. A camera with good dynamic range will be able to see more detail in dark parts of an image while keeping the bright parts of an image from being overexposed. Dynamic range has a more subconscious effect on a viewer than noise levels or resolution, but it is often the reason some photos look better than others, especially low ISO speed photos compared to high ISO speed photos. We test dynamic range by photographing a backlit Stouffer step chart at all ISO sensitivities. The Stouffer chart consists of a long row of rectangles, varying in tone from brightest white to darkest black. The more rectangles a camera can discern, the better its dynamic range.
The FZ18 has excellent dynamic range at ISO 100, and drops off at higher ISO speeds. Dynamic range is closely associated with noise levels; higher noise levels obscure image detail and hurt dynamic range. You can see the trend of this graph mirrors the trend of the noise graph further up the page. As we mentioned in the noise section, keep this camera at ISO 100 for the best possible image quality.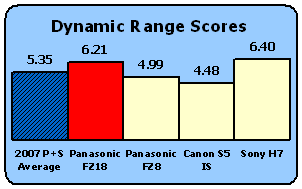 **Speed/Timing **– All speed tests were conducted using a Kingston Ultimate 120X 2GB SD Card, with the camera set to highest resolution and best quality, unless otherwise noted.
Startup to First Shot (7.8)
The FZ18 takes 2.2 seconds to turn on and take a shot.
*Shot-to-Shot (9.7)

*The camera has two Burst modes, Normal and Unlimited. In Normal mode, the FZ18 takes four shots, each 0.35 seconds apart. In Unlimited mode, it takes shots every 0.8 seconds until the card is filled.
Shutter-Shot (9.0)
When the shutter is held halfway down and the FZ18 is prefocused, there is no measurable lag. When the camera is not prefocused, it takes 0.3 seconds to fire a shot.
Processing (7.2)
The FZ18 takes 1.4 seconds to process a full resolution best-quality 3.8 MB photo taken at ISO 160.
Video Performance* (6.54) *

*Bright Indoor Light – 3000 lux *
We record footage of our color charts under bright studio lights set to 3000 lux. Under bright light, the camera has poor color accuracy, though this is typical under tungsten lights with Auto white balance. Noise levels are very low.


Low Light – 30 lux
In low light, color accuracy is far better, and noise levels stay quite low. This is a great camera for capturing videos of your friends at a club, or your family during a sunset.


*Resolution *
We also record footage of our resolution test chart in Movie mode. The FZ18 resolves 230 lw/ph horizontally with 25 percent undersharpening, and 371 lw/ph vertically with 11.9 percent undersharpening. This undersharpening helps keep image artifacts out, but means the video won't be nearly as sharp as it could be.
(100% crops)
*Outdoor Motion

*We take cameras out on the street to capture footage of moving cars and pedestrians. The FZ18's video has great looking color and exposure, and impressively lacks obvious image artifacts. On the downside, it has soft focus, and motion gets jerky as objects leave the frame. It sure isn't a camcorder, but the FZ18's Movie mode is one of the best we've seen in a digital camera.