Panasonic FH20 First Impression Digital Camera Review
$200.00
The Panasonic Lumix DSC-FH20 is the highest-end model in the new FH line introduced at CES.
Tour
Front
We were drawn to the candy apple red version of the Panasonic Lumix DSC-FH20 shown here, with its high-gloss paint job. The camera will also be available in silver, black, red and violet.
Up in the top right corner is a lamp that serves as both the self-timer indicator and an autofocus assist lamp when shooting in the dark.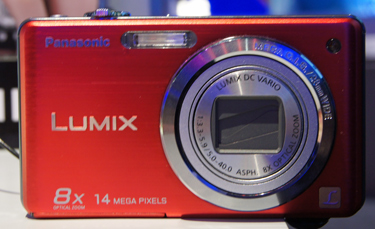 This bright red number caught our eye at Panasonic's CES booth.
Back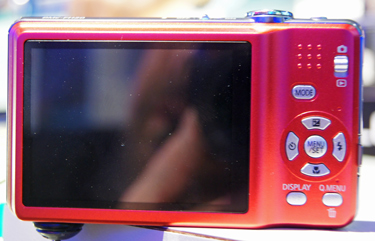 The 2.7-inch 230,000-dot LCD is raised on a beveled platform above the control section (or the control section is indented -- your choice). Unlike most recent cameras, Panasonic uses a physical switch at the top right to move between recording and playback modes, Given the camera's slender depth, a MODE button is used instead of a mode dial on top of the camera.
The four-way controller provides direct access to exposure compensation, flash control, macro mode and the self-timer. Pressing the center MENU/SET button brings up the main menu, pressing the Q. MENU button at the bottom right brings up the quick menu screen overlay. DISPLAY rotates information display alternatives in record and playback modes.
The raised LCD provides more depth for gripping top and bottom.
Sides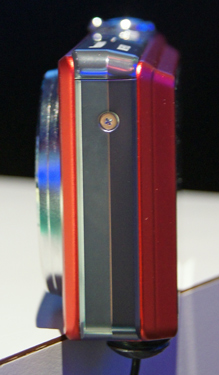 The left side is bare, the right has the wrist strap connector and a small hinged door (don't bite your fingernails!) covering the single I/O connector.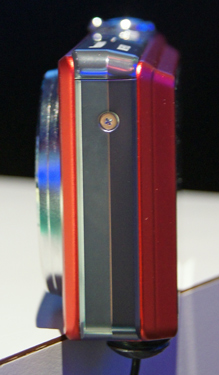 The right side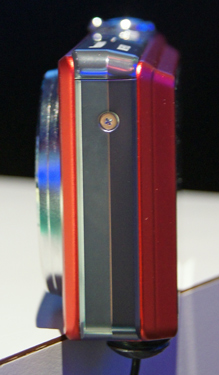 Wrist strap connector and I/O on the left
Top
The speaker lies behind the four tiny holes on top of the camera. It's tough to see here, but there's a single hole on the shadowed side of the beveled top for the mono microphone. The unusual control up here is the red iA button on the right. It takes you directly to Panasonic's Intelligent Auto mode, which uses scene recognition to set aperture, shutter speed and ISO.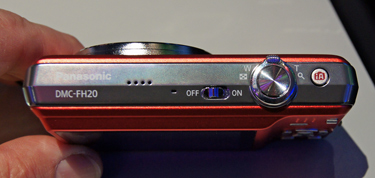 The controls are well positioned for easy access.
Bottom
The latched battery compartment on the left will accept SD, SDHC and the new high-capacity SDXC memory cards. Actual retail models will not come with the umbilical cord shown attached to the tripod socket here: this was shot on the floor of a trade show, where untethered cameras tend to run away.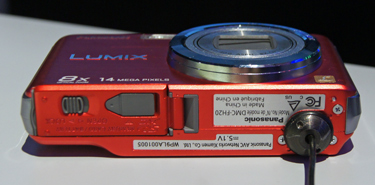 The tripod socket is oddly positioned at the right edge.