Olympus Stylus 790SW Digital Camera Review
$299.99
Read an independent, expert review of the Olympus Stylus 790SW digital camera.
Related
Testing/Performance
Color*(6.12)*
All cameras reproduce colors differently, from the color of blues skies to the shades of skin tones. We test color accuracy by photographing an industry standard GretagMacbeth ColorChecker test chart, and comparing the known colors of the chart with the colors the camera reproduces. The ColorChecker consists of 24 tiles of commonly photographed colors from around the color spectrum. The image below shows the actual colors of the ColorChecker next to the colors the camera reproduces. The outside squares show the colors the Olympus 790SW reproduces, the inside squares show the actual colors of the ColorChecker corrected for exposure error, and the inner rectangles show the ColorChecker colors under an even exposure. We photograph the chart under tungsten lights using the tungsten white balance preset, as the 790SW does not have a manual white balance option.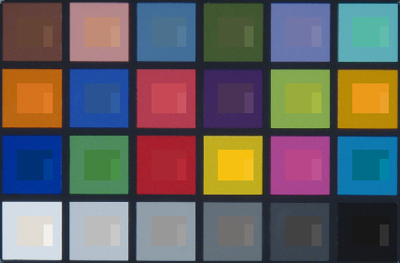 If you look at the outside squares compared to the inside squares, a number of them are significantly different than their true colors. Especially inaccurate are the highly saturated yellows, greens, and blues on the third row. The graph below shows this information more quantitatively. The ideal colors of the ColorChecker are placed on the color spectrum as squares, and the corresponding colors the 790SW reproduces are shown as circles. The lengths of the lines connecting the squares and circles show the color error.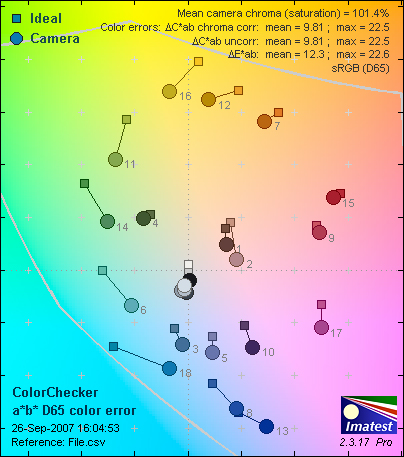 The graph shows how many of the colors are shifted from what they should be, especially yellows, greens, and blues. This is a significant percentage of the color spectrum that is rendered inaccurately, and will affect photos ranging from outdoor landscapes to family portraits. Blue skies will be shifted purple, and some skin tones may appear greenish.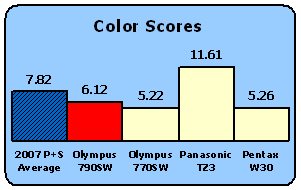 Resolution*(5.06) *
With 7.1 megapixels, the Olympus 790SW isn't trying to win the resolution race against similarly-priced high-megapixel cameras. To see how the 790SW's resolution stands up to the competition, we put the camera to the test by photographing an industry standard resolution test chart and varying focal length and exposure settings. We ran the images through Imatest to determine the ideal settings that produced the sharpest image. Imatest measures resolution in terms of line widths per picture height (lw/ph), which corresponds to the number of equally-spaced alternating black and white lines that can fit across the picture frame before becoming blurred.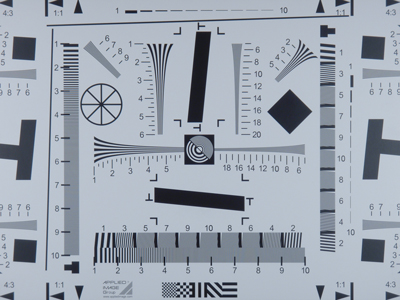 Click to view the high resolution image
We found the 790SW to be sharpest at ISO 80, f/5, and a focal length of 20mm. The camera resolves 1487 lw/ph horizontally with 1.6 percent undersharpening, and 1376 lw/ph vertically with 5.1 percent undersharpening. Despite the lack of sharpening, there is still a little image artifacting in the form of color moiré, and some ghosting lines (white lines along edges of high contrast). However, the camera maintains good detail up to the very edge of the image. Overall, the camera is significantly below average in resolving power for a 2007 point-and-shoot. It didn't perform nearly as well as its predecessor, the Olympus Stylus 770SW.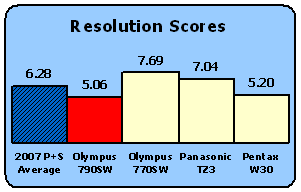 **Noise – Manual ISO ***(6.85) *
All digital camera sensors produce "noise," which is extraneous electric signal that appears in photographs as sandy looking dots or splotchy patches. It is similar to the static on your TV or the background hiss in your stereo. We measure noise levels in cameras by photographing our test chart under bright, even studio light, at all ISO sensitivities. Noise levels are inherently higher when the ISO sensitivity is increased.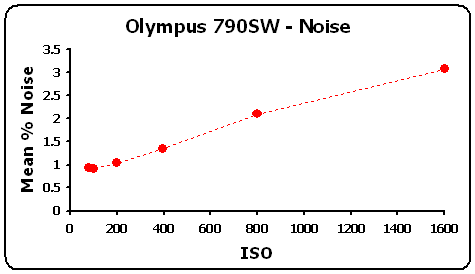 The graph above shows the noise levels for the 790SW. Noise levels are very low all the way up to ISO 400, but then reach very high levels at ISO 800 and 1600. This is an advantage of not cramming too many pixels onto the sensor, because more pixels often mean more noise. Unfortunately, this camera's noise (like many other Olympus point-and-shoots) is very colored, splotchy, and ugly. There are blue and yellow colored patches, and small sandy spots as well. Keep this camera set to ISO 400 or below as much as possible.
**Noise – Auto ISO ***(3.59) *
We also photographed our test chart under the same studio lights with the camera set to Auto ISO. At ISO 200, the 790SW produces noise that drowns out 1 percent of the image. This is very good, and means you can usually trust the Auto ISO setting to keep noise levels as low as possible.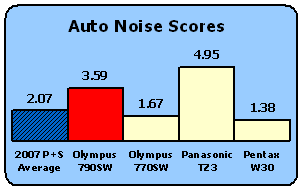 **White Balance ***(3.68) *
White balance has a huge impact on color accuracy, because a camera needs to be able to adjust its colors for different kinds of light sources. Tungsten light, for example, is very yellow, while many fluorescent lights are bluish. The 790SW has no manual white balance, but it has an Auto setting and white balance presets, found in the Function menu. To test white balance, we photograph our test chart under four different kinds of light: flash, fluorescent, outdoor shade, and tungsten.
Auto (3.51)
Set to Auto white balance, the 790SW's accuracy is less than stellar. All four types of light were almost equally inaccurate, especially tungsten light. Unfortunately, the presets aren't much better.
*Preset (3.68)

*The camera's most accurate setting under white fluorescent lights is Fluorescent "3." Outdoor Cloudy and Tungsten are extremely inaccurate. You might as well leave this camera on Auto to save time, because the presets don't help much.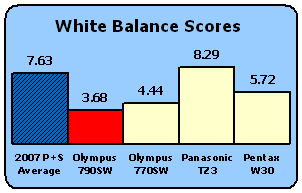 **Still Life Sequences

**Click to view the high resolution images.
**
Low Light ***(4.79) *
Because all your photos won't be taken in ideally lit scenes, we test camera performance in low light. To do this, we photograph the ColorChecker at light levels of 60, 30, 15, and 5 lux, and measure the color accuracy and noise levels. 60 lux corresponds roughly to the amount of light illuminating a room with two soft lamps in it, 30 lux approximates a room lit by a single 40-watt bulb, 15 lux is similar to the light given off by a TV screen, and 5 lux is like watching a video iPod in a dark closet. All shots are taken at ISO 1600.
The 790SW has huge trouble exposing properly in low light. It can barely get an even exposure at 30 lux, and anything darker will be underexposed, as you can see in the ColorChecker images above. This is a major problem, because many similarly-priced cameras have no trouble exposing at least down to 15 lux. At 30 and 60 lux, color accuracy suffers a bit, and noise levels are fairly high. This camera does not shoot well in low light.
We also test long exposure performance, but only at ISO 400 so we can compare each camera accurately. In Night Scene mode, the 790SW takes exposures as long as 4 seconds, but ISO cannot be controlled. In Auto mode, the camera can take ISO 400 shots as long as 0.5 seconds. At this exposure, color accuracy is just as good as in bright light, and noise levels are quite low.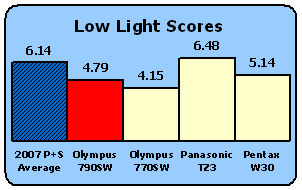 **Dynamic Range ***(6.36) *
Dynamic range is an important image quality factor because it describes the range of tonal values a camera can discern. In other words, a camera with good dynamic range can see more shades of gray than another camera. This is especially helpful for scenes with high contrast, such as wedding photos (white dress and black tux), and sunny outdoor landscapes (bright highlights and dark shadows). We test dynamic range by photographing a backlit Stouffer test chart at all ISO sensitivities. The Stouffer chart consists of a long row of rectangles, varying from brightest white to darkest black. The more rectangles the camera can distinguish, the better its dynamic range.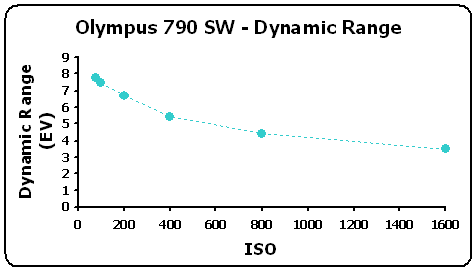 The 790SW has very good dynamic range at ISO 80 and 100, then drops steadily up to high ISO. This is likely associated with the fact that the camera has low noise levels at low ISO settings, which helps dynamic range because noise can drown out detail in dark areas of an image. Overall, the 790SW performs significantly better than the yearly average, and barely edges out its predecessor, the 770 SW.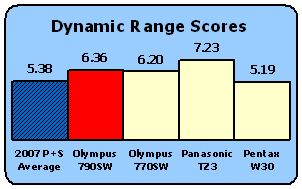 **Speed/Timing **– All speed tests are conducted using an Olympus 256MB xD-Picture Card, with the camera set to SHQ, unless otherwise noted.
Startup to First Shot (8.2)
The 790SW takes 1.8 seconds to start up before taking its first shot.
Shot-to-Shot (9.0)
In Burst mode, the 790SW takes 4 SHQ photos, each 1 second apart. In HI mode, the camera switches to the much lower resolution SQ1, taking shots every 0.25 seconds for approximately 42 photos.
*Shutter-to-Shot (9.0)

*The 790SW has no measurable lag time when the shutter is held down halfway and prefocused, but waits 0.7 seconds to autofocus when not prefocused.
Processing (5.8)
The camera takes 2.1 seconds to process one 3.0 MB SHQ shot taken at ISO 125. This is a rather long time; you'll have to wait for the little red light to stop blinking.
**Video Performance ***(2.10) *

*Bright Light – 3000 lux

*While virtually all digital cameras shoot rudimentary video compared to camcorders, Movie modes can be a lot of fun to play with, and can produce video that is perfectly fine for streaming on video sharing sites like YouTube or Google Video. We test video performance by recording footage of our color test charts under bright, even studio lights set to 3000 lux. The 790SW has very poor color error under bright tungsten studio lights, but low noise. It is very common for cameras to have strong color error when shooting under tungsten lights and set to Auto white balance, but the 790SW is even worse than usual.
Low Light – 30 lux
We also test video performance under less-than-ideal shooting conditions. At 30 lux, the 790SW also has tremendous color error, but again, fairly low noise. It can, however, expose properly in such low light.
Resolution
We record footage of our resolution test chart to determine the sharpness of cameras in Movie mode. Video resolution is always worse than still image resolution because video is shot in Standard Definition, which consists of only 640 x 480 pixels. The camera resolves 239 lw/ph horizontally with 6.6 percent undersharpening, and 260 lw/ph with 34 percent oversharpening. This is way too much oversharpening, and adds tons of image artifacting to the video footage. Notice the jagged edges and abundant image moiré in the crops below.
*Motion

*We take cameras out of the lab to capture some motion footage outside. When shooting moving cars and pedestrians, the 790SW has many issues. The motion is incredibly jerky, edges look jagged, there is abundant moiré, and the exposure changes very abruptly. However, color looks a little undersaturated, but decent for the most part. Overall, the video looks very ugly, though slightly better than the video of its predecessor, the 770 SW.