Olympus Stylus 410 Digital Camera Review
$349.99
Testing / Performance
Color ***(9.16)***
To test the color performance of any given digital camera we use the industry standard GretagMacbeth color chart. We take an image in the camera's default/standard color mode (at its highest possible quality) and run the resulting image through Imatest Imaging Software. This software helps us analyze the camera's color and saturation and how it differs from ideal color. The below image is the color chart after it has been through Imatest. The outer square indicates what the camera produces, the inner square is the software corrected color, and the smallest rectangle is ideal color.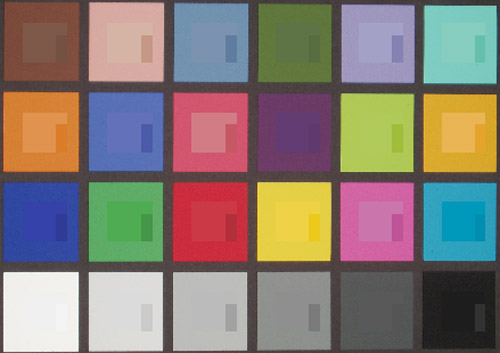 The below graph indicates the color performance of the Stylus 410. Each square (and corresponding number) represents one of the 24 colors on the color chart, each circle represents the color produced by the Olympus Stylus 410, and the distance between is the camera's color error.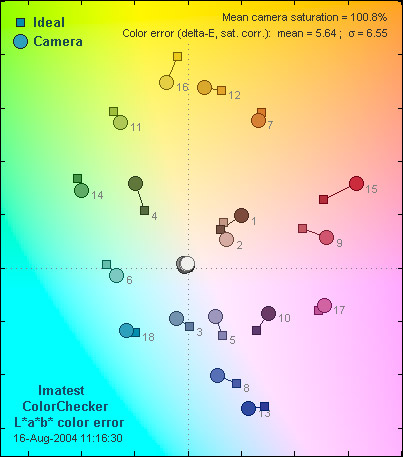 The Olympus Stylus 410 performed very well in our color testing, surpassing a great deal of other point-and-shoot digital cameras. It also has a surprisingly low saturation score of 100.8%. Most cameras produce a little bit of saturation to give images bolder and more vivid colors, but the Olympus was pretty consistent with accurate saturation levels.
The Olympus Stylus 410 excelled in the blue and purple areas of the color spectrum. It also did well for most of the greens and orange colors. A number of color numbers were very close to ideal color, especially #7, #11, #14,#18, #17. Compared to these values the reddish pink tones might seem pretty inaccurate, but it is a pretty much industry standard to over-saturate those colors to produce accurate skin tones. Overall, this camera has very impressive color reproduction.
**Still Life Scene

**Below is a shot of our post-modern still life scene taken with the Olympus Stylus 410.
[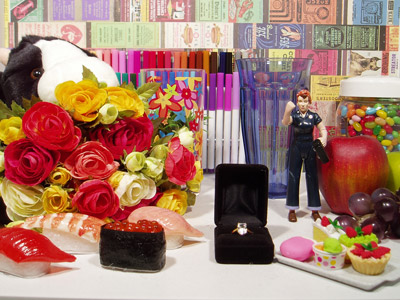 Click on the above image to view a full resolution version (CAUTION: The linked image is very large!)](../viewer.php?picture=Oym410RL.jpg)
Resolution / Sharpness ***(2.6)***
It is a common scenario that digital cameras don't produce the same resolution values that their manufacturers report. The marketing strategies tend to stretch numbers and inflate values. If a camera exceeds 80-89% of the camera's stated resolution we give them good resolution scores, and anything above 90% is excellent. The Olympus Stylus 410 Digital, when tested, performed at a 2.6 megapixel "real resolution" level. This is roughly 66% of its reported 4 megapixel resolution. I was disappointed with this score, especially since the Olympus Stylus 410 did so well in our color testing. For most users, however, this will not make a huge difference. The images taken by the Olympus Stylus 410 will be sufficient for casual or family pictures and will produce fine prints.
Noise Auto ISO ***(9.01)***
The Olympus Stylus 410 scored extremely high on our automatic ISO noise test. For a stripped down point-and-shoot camera, the Stylus 410 produced minimal noise in well lit scenes. When the available light is decreased, noise is considerably more noticeable; however, this is only in low-light settings when a flash or additional light source is applicable. For a point-and-shoot camera, the Stylus 410 performs near the top of the field and so long as there is a reasonable amount of light it will produce images without much distortion.
---
**Noise Manual ISO ***(0.0)*
Unfortunately, manual ISO controls are not offered on the Stylus 410.
**Speed Timing

***Start-up to First Shot **(5.3)*
The Stylus 410 Digital has a very long start-up time…so long that they included a few animated scenes to keep you entertained while you wait! It took about 4.7 seconds for the camera to go from the off position to take its first shot. A real problem if you're trying to live spontaneously.
Shot to shot (7.8)
The lag time between shots on the Olympus Stylus 410 is not as bad as its start-up time. It is pretty comparable - and in some cases - much better than other digital cameras on the market, with roughly 2.2 seconds in between shots.
**
Shutter to shot* (8.6)*
The Stylus 410 also performed well in speed timing tests when we gauged the time in between pressing down the shutter and taking an image. It took approximately 0.2 seconds to capture an image. This is pretty good considering digital cameras get a bad rap for having a huge shutter delay.
---