Nikon Coolpix S01 First Impressions Review
$179.95
A ludicrously small point-and-shoot that practically fits in a wallet. It's small, it's cheap, but can it take a decent picture?
Design & Usability
The phone comparison is appropriate, because the S01 uses the kind of sensor you might find on a smartphone—a tiny 1/3-inch chip that still manages to squeeze in an impressive 16 megapixels. Handling the S01 is a rather ridiculous experience, and if DigitalCameraInfo.com's TJ Donegan were writing this review he would surely make reference to the Noisy Cricket from Men in Black. Except for the shutter release, which is stiff and imprecise, control is navigated entirely through a touch interface.
We generally abhor touchscreens on cameras on principle, but the S01's is legitimately one of the worst in recent memory. It appears to be a resistive panel, so a light touch won't do the trick, and sensitivity drops at the edges and corners where the plastic doesn't flex as much. Touch-shutter is available, but between the light weight of the camera and the heavy press needed to trigger it, you'll probably knock your framing off in the process. The menu interface has been drastically simplified to make navigation easier, and this was a great decision which would've been appealing if the touch functionality itself wasn't so bad.
Assuming they can acclimate to such a lousy input method, beginners will appreciate the S01's control options... or lack thereof. The first page of the menu divides the screen into four sections of basic usability options, while the second page provides easy access to some common functions like self-timer, exposure compensation (the camera's only way of adjusting exposure), and picture effects.
Features
Picture effects, by the way, are billed as one of the S01's key features, since the camera needs to compete with the likes of Instagram and other phone apps. They're good, but Instagram is better, and since new apps are constantly released, we feel like the S01 is fighting a losing battle here.
Perhaps the camera's best feature is its more than 7 gigabytes of internal memory. The S01 has no memory card slot, or battery slot for that matter, meaning that a buyer of this camera will never incur any ancillary costs later on. It makes the product compelling as something like a standalone stocking-stuffer.
The S01's adorable 3x lens is should be quite an advantage over nearly every smartphone out there. Should be, but isn't, sadly. The tic tac-sized sensor renders every photo completely flat, with no better image quality than an iPhone. And since manual control over shutter speed, aperture, and ISO are nonexistent, expect some motion blur in low light with no available remedy. Autofocus performance is also extremely slow, restricting the S01 to planned portraits and still scenes, with only the clumsiest ability to capture decisive moments.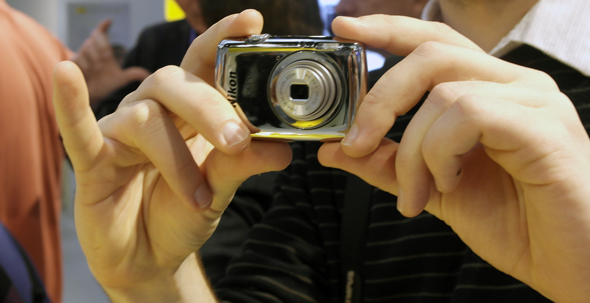 Conclusion
We'd rather shoot with a smartphone than the Coolpix S01. There are many different reasons for this, but we can think of no more damning criticism for a camera that's designed and marketed to compete directly with phones. Bad image quality, slow autofocus, and a quintessentially cumbersome touchscreen all make the S01 completely uninteresting to camera nerds like us. The best audience for this camera is probably that person in your life who really likes small, cute things. But as a tool for photography, the S01 will have no place in your kit.
Introduction
Look at this thing! The Nikon Coolpix S01 is a teenie-tiny camera that weighs only 96 grams and measures only 77 millimeters wide. That's smaller than a business card! It's an ultracompact that brings new meaning to the word—so portable and pocket-friendly that the booth attendants here at Photokina were nervous about letting it out of their sight.
The target audience seems to go beyond those looking for a compact camera; instead, the S01 appeals more to people who just find small things really cute. At only $179, that might be enough for success in the marketplace (particularly in Japan, we'd imagine). But to earn our recommendation, the S01 needs to justify its own existence by surpassing the image quality of cameras already built into cell phones.