Fujifilm X10 Digital Camera Review
$599.00
Better than
85%
of Reviewed Digital Cameras

Hardware
Viewfinder
The X10 is one of the few compacts that comes equipped with a built-in optical viewfinder, and as such, it's one of this camera's more notable features.
It's a tunnel-style finder, tucked in the upper-left corner of the body, right above the LCD, and predictably next to the diopter adjustment dial. It covers a respectable 85% of the true field of view, which is more than either the Nikon P7100 or the Canon G12. The image is bright and clear (so long as you make sure to clean fingerprints off both sides of the finder from time to time), and the window is large for a tunnel-type. The finder does zoom along with the actual lens, too, to keep framing as accurate as possible, so it's like a standalone lens of sorts.
Since it's a separate window (rather than the through-the-lens finders on DSLRs or what electronic viewfinders mimic), it's never a perfectly accurate reproduction of an image's actual framing. But it's always going to be a compromise to get any kind of optical viewfinder into a compact camera, and all things considered, this one is probably the best we've seen in a fixed-lens shooter.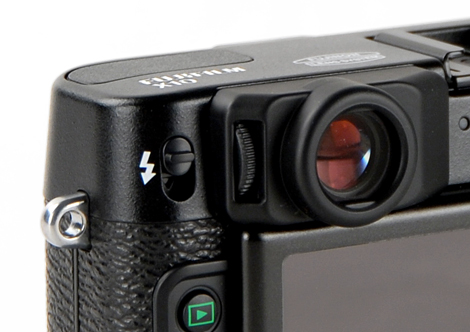 Display
Compared to the viewfinder, the LCD isn't too exciting. It's a 2.8-inch, 460,000-pixel fixed display—nothing special on a $600 camera. Among the other viewfinder-equipped, bulky high-end compacts, the X10's screen specs are the most ho-hum. The Canon G12's screen the same size and resolution, though it's on a tilt-and-swivel hinge, while the Nikon P7100 has a larger, higher-res display.
In any case, the X10's display is smooth and accurate enough to get the job done, and of course, there's always the viewfinder when the sun gets too bright.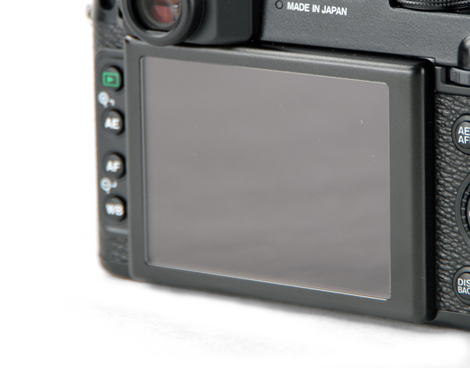 Flash
A flash pops up from the top-left of the chassis with the flick of a lever. Fujifilm claims that it's effective up to 7 meters; we don't test for flash range, but that is very powerful compared to most dinky built-in flash units. It feels solidly built and is well-anchored to the body (no flimsy hinges here), and leaves enough room on the top panel for a shooter to rest his or her left index finger. It needs a manual push to sink back into the body, which automatically disables flash options in the interface.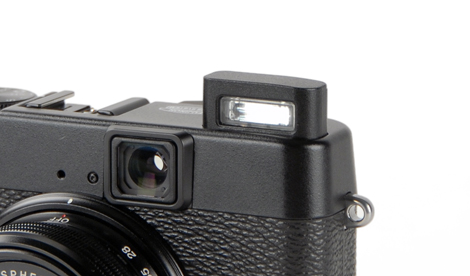 Lens
A nice, bright lens is another centerpiece of the X10's design. It's an all-glass, f/2.0-2.8, 28-112mm equivalent, Fujinon piece with 11 elements in 9 groups.
That's about as fast as a compact-cam lens gets, right in the wheelhouse with enthusiast favorites like the Canon S100 (f/2.0), Olympus XZ-1 (f/1.8), and most other RAW-shooting high-end compacts. (It's also worth noting that the Canon G12 and Nikon P7100 both start at an average f/2.8.) It's a huge part of the X10's excellent low-light performance, and also helps it to achieve a shallow depth-of-field—at least by point-and-shoot standards.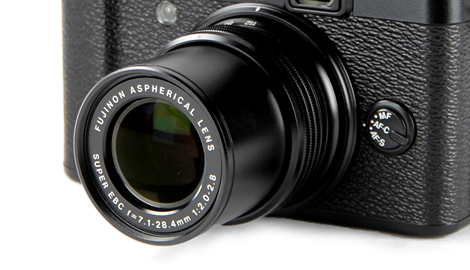 The fast aperture is great, but the zoom mechanism ties the whole package together with a bow. A textured-metal, butter-smooth twist barrel controls the focal length, offering more fine control than an electronic zoom tilter ever can. It's weighted just right, neither too stiff nor too sensitive. Fujifilm really nailed it with this design.
While the zoom range seems pretty modest at just 4x, that's actually about right for such a bright piece of glass—none of the really bright enthusiast shooters extend beyond 5x, and while the Nikon P7100 reaches out to 7x, we've already noted that it's maximum aperture is f/2.8, which isn't too bright.
The lens barrel is also the power switch. It took us about a day to get used to twisting the lens to turn on the camera (we can't think of another camera in recent years that doesn't have a dedicated power switch), but it quickly became second nature. The barrel puts up some resistance at the wide-angle setting as you're moving it toward the Off setting, which prevents any accidental power-downs—a well thought-out design. Fujifilm claims that this set-up speeds up pocket-to-shot times—if it does, it's by a fraction of a second. In any case, we didn't find any downsides in having the switch built into the lens barrel.
Battery
A Fujifilm NP-50 rechargeable lithium-ion battery will ship with the X10. This is the same battery used in many of their point-and-shoots, including the most recent F-series travel zooms. If you're a Fuji nut, you probably have one or two of these lying around.
We couldn't find an official CIPA rating for the battery, but we got about 250 shots per charge. That's a skimpy shot count for such a high-end camera, and well short of what the Canon G12 and Nikon P7100 can muster.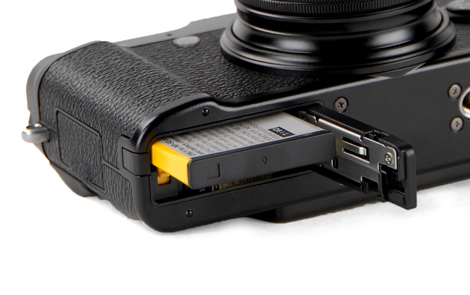 Memory
Like just about every other camera out there, the X10 captures to SD/SDHC/SDXC memory cards.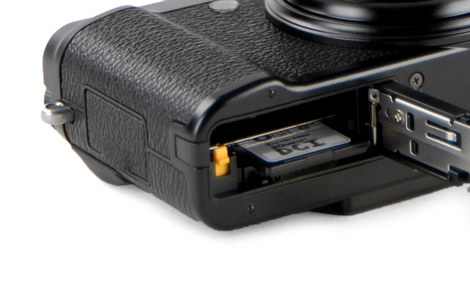 Jacks, Ports & Plugs
Micro-USB and mini-HDMI ports sit behind a plastic door on the side of the X10, a common combo these days.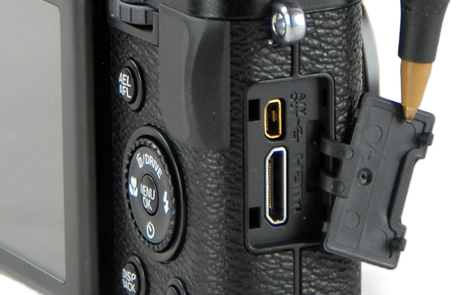 Other Hardware
Hot-Shoe
The X10 is equipped with a standard hot-shoe accessory port, useful for adding a more powerful flash or any number of accessories.