Fujifilm X10 Digital Camera Review
$599.00
Better than
85%
of Reviewed Digital Cameras

Design & Handling
Handling
As far as advanced compacts go, the X10 handles well. It's a heavy hunk of metal, and while there's enough grip and texture to hang onto, it's a little bit too cumbersome for comfortable one-handed operation. But given the control layout, particularly the placement of the viewfinder and the left-hand control column as well as the nature of the twisting lens barrel, this camera is meant for two-handed operation. From that perspective, it's a well-balanced, well-built machine.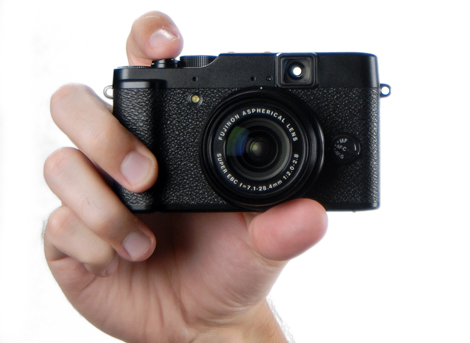 This is a compact camera in the sense that it can fit into a roomy jacket pocket and won't attract too much attention on the street (with the qualification that sometime in the past couple of years, it became odd to see a person looking through a camera's viewfinder). It's much too large for a pants pocket, and it'll weigh down a coat or purse pocket a bit. Fujifilm wisely packaged a shoulder strap rather than a cheaper, smaller wrist strap, which is probably the most comfortable way to carry it.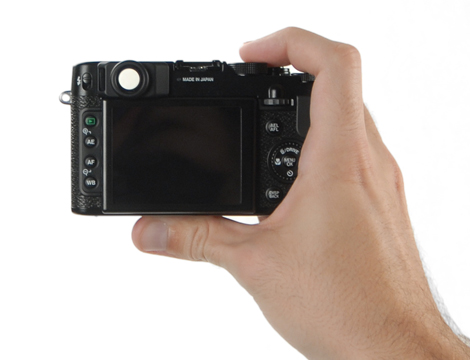 Buttons & Dials
Buttons and dials are in no short supply here. Starting up top, there's a standard mode dial, a dedicated exposure compensation dial (which is stiff, but stays in place), a big, comfy shutter button, and an assignable function button, set to ISO by default. We typically look for function buttons on the rear or front panel, but this one is located next to the shutter, which is convenient.
The back panel to the right of the LCD should look familiar to most camera users. There's an AE/AF lock key, a general-purpose DISP/BACK button, a dedicated RAW hotkey, and a selection wheel (technically called a sub-command dial). The only knob that stands out is the jog dial (or command dial). Jog dials are commonplace on DSLRs, typically used to cycle through aperture and shutter values (serious cameras even have two dials) but it's a feature reserved for higher-end compacts.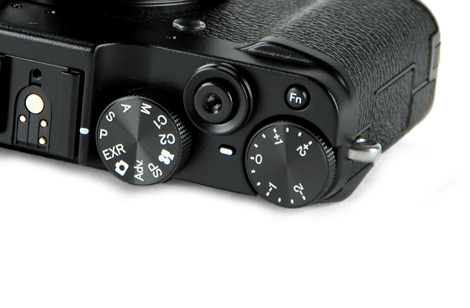 Then there's an DSLR-style column of controls to the left of the LCD, something that's hardly seen at all on fixed-lens cameras. There's a playback access key as well as hotkeys for autofocus mode, metering, and white balance. Up front, tucked next to the lens sits a switch for focus type (AF single, AF continuous, or manual focus). And of course, the lens barrel is hand-operated, controlling the focal length as well as the power.
All of the buttons and switches feel solid and robust, with the exception of the cheapish jog dial, which should be made of metal. We'd love to see a front-mounted all-purpose dial and a second function key—something like the Nikon P7100 setup—but in the big picture, the X10 has everything to make most enthusiasts happy. Handling and layout are highly subjective, so some folks will find reasons to hate this particular setup, but it's in the same wheelhouse as its competitors.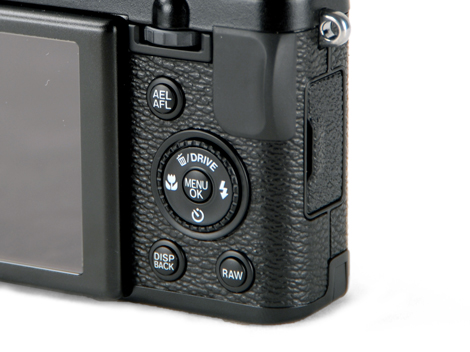 Menus
The Fujifilm menu system isn't as pretty as other brands' interfaces, but it's pretty effective. It's a two-tiered system—one tab for shooting, one for setup—and the organization makes sense. The X10 is loaded with enough direct-access keys that most shooters won't have to fumble around in the menu system of the course of a regular shooting session anyhow.
We ran into at least one bug in the interface that caused the entire camera to crash. We tried to manually set the white balance, the X10 flashed "OVER" on the screen (we're guessing that the shot was too overexposed to measure whites), and the whole camera froze up on us. We were able to repeat this glitch, so it doesn't seem like a random occurrence.
The X100 had a long, long list of bugs and glitches at launch, so we're not surprised to see a few carried over to the X10, though we're glad that it isn't as prevalent with the X10. Fujifilm should be able to fix this with a firmware update (they've already addressed an issue relating to aperture values). If you run into any errors of your own, feel free to leave a comment on this review.
Manual & Learning
Joy of joys, the X10 actually ships with a complete, printed manual. That's rare with fixed-lens cameras—we've even seen a few system cameras lately that include just a quick-start guide—but kudos to Fujifilm for spending a little extra cash for the real thing. There's a CD-ROM with a digital PDF copy of the manual included as well.
Curiously, Fuji also included a one-sheet with corrections to a few minor errors in the manual—a few bits that the proofreaders didn't catch the first time around (we know how that one goes). It could cause some confusion down the line when the correction sheet inevitably gets lost, so we considered subtracting a point. But honestly, we never would've caught the errors had Fuji not disclosed them voluntarily. It was the right thing for them to do, so fair play and full points.