Fujifilm X10 Digital Camera Review
$599.00
Better than
85%
of Reviewed Digital Cameras

Controls
Shooting Modes
Automatic and manual shooting modes are equally strong on the X10. Like many higher-end Fujifilm models, the X10 has a standard auto mode and an EXR auto mode, which selects one of the camera's alternative capture and processing techniques. EXR mode is the best way to approach automatic shooting with the X10; the shots generally turn out cleaner, sharper, and with a more balanced dynamic range than they do out of the standard auto mode, and they never look worse. The High ISO & Low Noise and D-Range Priority modes do chop the resolution down to 6 megapixels, which is low by current standards but still dense enough for decently large prints.
As an advanced point-and-shoot designed with enthusiast, semi-pro, and even pro shooters in mind, the X10 is laid out for manual control, at least by compact-camera standards. Program, Aperture Priority, Shutter Priority, and Manual modes are all supported, and the wealth of direct-access buttons and dials make it easy to wield the X10's power.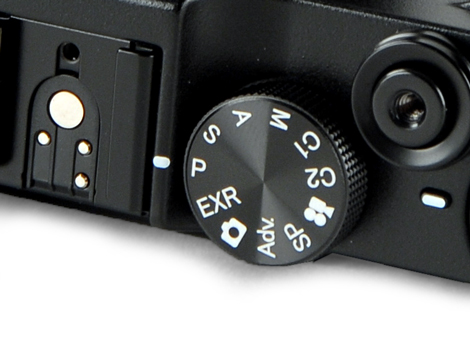 Scene Modes
By our count, the X10 offers 19 preset scene modes. Most of them are common settings like Portrait, Landscape, Sport, Beach, Flower, and the like. The oddball is the Text mode, which is meant for shooting black text on white paper but can create some interesting high-contrast effects in real-world settings.
The most useful scene modes fall under the Advanced notch on the mode dial, including a 360-degree motion panorama setting, a Pro Focus mode which mimics a shallow depth-of-field with software-based blurring, and a Pro Low Light mode which cranks up the ISO sensitivity for extreme low-light shots.
Ultimately, because the auto modes are smart and manual modes implemented so effectively, most of the scene presets will likely go unused by most shooters.
Picture Effects
The X10 doesn't include any picture effects or filters whatsoever. That's typical of Fujifilm cameras, and we doubt that the X10's target audience will miss them very much, but it can't to throw in a lomo effect filter—maybe next time.
Manual Controls
As we mentioned, the X10 has a full range of PASM manual controls, complemented by a heap of external controls, including direct-access keys for metering, autofocus type, white balance, and RAW capture, as well as a programmable function key (set by default to ISO, but it can be assigned to any number of settings), a command (jog) dial, sub-command dial, and an exposure compensation dial, as well as a focus-mode selector mounted on the front of the body to the left of the lens. It's a smooth and efficient manual-control setup, particularly by compact standards.
Even better, there are also fine controls for white balance shift, color saturation, sharpness, highlight tone, shadow tone, and noise reduction available in the menu. That's as much in-camera tinkering as you'll be able to do with a compact cam. The pickiest JPEG shooters should be able to find at least one setting that makes them happy. And of course, there's also RAW shooting for the die-hard hands-on processors.
Drive/Burst Mode
No totally continuous drive options are available, but the 2fps burst mode (the slowest setting) is effectively the same thing—the buffer clears faster than the camera can fill it at that speed, so fire at will. The medium setting ramps up to about 5 full-resolution frames per second, and the high setting advertises about 7fps (which it doesn't quite hit—see below). A super-high setting can manage 10fps, but at a reduced resolution.
A handful of bracketing modes take advantage of the X10's quick performance, including AE bracketing, ISO bracketing, film simulation bracketing, and dynamic range bracketing.
And of course, there's a self-time mode with 2 second and 10 second settings. It feels a bit under-developed on an otherwise advanced camera—some customizable settings would help out greatly.
Shot to Shot ()
Since it's built around a CMOS sensor, the X10 is a speedy bugger. Focus is incredibly quick (if not accurate 100% of the time, though that's something that can be worked out with a future firmware update), even in poor lighting. We measured a very impressive 6.69 frames per second at the fastest full-resolution burst setting. It isn't quite quick enough to beat out the Canon S100, but it comes close. The buffer does clog up after about 7 shots, though we never managed to totally fill it, even as the frame rate slowed down considerably. A strong showing, fast enough to capture plenty of action.
Other Controls
Exposure Compensation Dial
We mentioned the exposure compensation dial in the manual controls section above, but we gave it a special mention in our Canon G12 review, so we're doing the same here. It can touch +/- 2 EV in increments of 1/3 EV, which is a typical setup. The dial itself is a bit stiff, which seems to be a reaction to the loose dial on the X100—users complain that it shifts too easily when it shoved into or pulled out of a bag or pocket. That won't be a problem with the X10's comp dial, which needs a bit of oomph to get moving.