Casio Exilim EX-Z1050 Digital Camera Review
Read a digital camera review of the 10 megapixel Casio Exilim EX-Z1050 point and shoot.
Related
Testing / Performance
Color*(5.56)*
We tested the color accuracy of the Casio EX-Z1050 by photographing an industry standard color chart, the GretagMacbeth ColorChecker. This chart is made up of 24 color tiles that represent a variety of colors, including several commonly photographed colors such as sky blues, grass greens, and flesh tones. We ran the images through Imatest to determine how accurately the Z1050 reproduces the colors. In the chart below, the outside square shows the actual color captured by the camera, the middle square shows the ideal color of the chart, and the little inner rectangle shows the luminance corrected ideal color.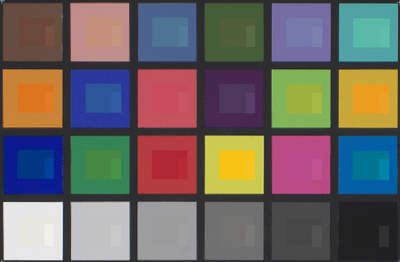 Several colors appear to stray from the ideal chart colors, and this is confirmed by the graph below. This graph represents the entire color spectrum, with the 24 colors from the ColorChecker chart represented as squares. The actual colors reproduced by the Z1050 are shown as circles, and the lines connecting the circles and squares show the amount of error. Colors that drift away from the center of the chart are oversaturated, and colors that drift closer to the center are undersaturated.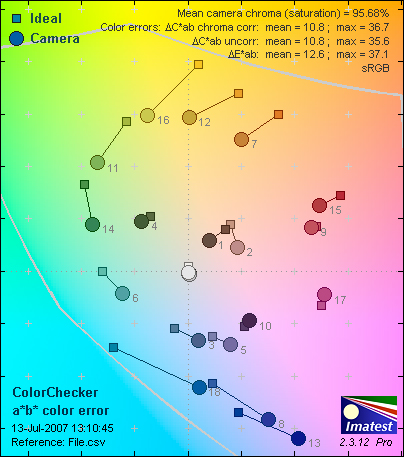 As you can see, many colors shift from their ideal values. This is especially true with blues, greens, and yellows; the yellows are turning green and the blues are turning purple. The 10.8 mean color error is a poor score, and the 4 percent undersaturation isn't very good either.
White Balance*(10.57)*

Auto (11.89)
To determine the Z1050's white balance accuracy, we photographed the GretagMacbeth ColorChecker under four different kinds of light: Flash, Fluorescent, Outdoor Cloudy, and Tungsten. Using the Auto White Balance setting, the camera performed very well. There is no flash preset on the Z1050, but that shouldn't be an issue, because the Auto White Balance setting is superb. Under fluorescent light, the Auto setting was also very accurate, even more so than the fluorescent presets. However, stay away from using the Auto setting when shooting indoors under tungsten lights, unless you like everything to look extremely yellow.


Preset (9.25)
The Preset White Balance settings were also strong, especially the Cloudy preset. However, even though the Tungsten preset was better than Auto, it was still not particularly accurate. Using Custom White Balance is your best bet when shooting indoors under tungsten lights.


Still Life Sequences

***Click to see the high-resolution image.

*



**Resolution*(7.87)

*With a whopping 10-megapixel sensor, the Casio EX-Z1050 is one of the highest resolution point-and-shoots available. To test the resolution of the Z1050, we photographed an industry standard resolution chart at different apertures, focal lengths, and exposure settings to determine which settings produced the sharpest images.
Running the images through Imatest showed that the Z1050 was at its best with an ISO of 80, a focal length of 17 mm, and an aperture of f/4.4. Imatest quantifies resolution in units of line widths per picture height (lw/ph), which tells how many theoretical alternating black and white lines can fit across the image frame before they become blurred.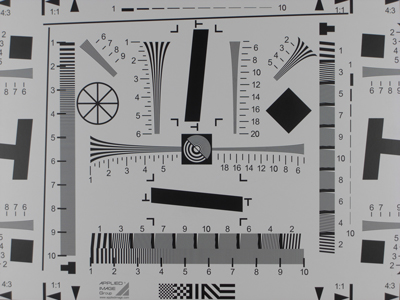 Click to view high-resolution image
The 10-megapixel Z1050 did indeed reproduce the test chart at high resolution. It captured 1934 lw/ph vertically and 2099 horizontally, while being significantly undersharpened at -11.1 percent and -3.75 percent, respectively. This undersharpening is probably an attempt to avoid imaging artifacts that can come along with oversharpening high resolution images. This is a very good performance, and means, at least in terms of resolution, that images from the Z1050 could be reproduced as large prints.
Noise – Auto ISO*(6.41)*
We set the Z1050 to Auto ISO and shot our test chart to see which setting it would choose. The camera shot at ISO 200, and while it is a bit higher than usual, the noise levels were still quite low.
Noise – Manual ISO*(9.26)*
Under the same bright studio lights, we photographed the test chart at every manual ISO setting to see how it handled noise through the whole range. The graph below plots the amount of noise as a percentage of the image that was drowned out by the noise.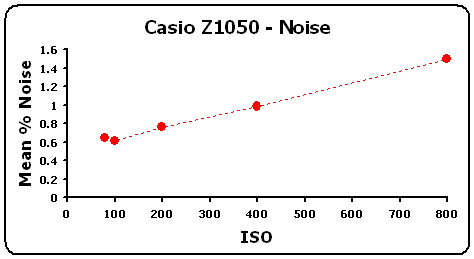 The graph shows that the Z1050 has significantly less noise than similar 10-megapixel point-and-shoots. Noise levels are especially good at ISO 80 and 100, and then rise steadily through ISO 800. Even at high ISO, the noise levels are less than those of its competitors.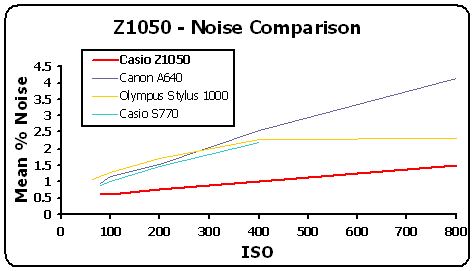 Low Light*(5.15)*
We dimmed the studio lights down to 60, 30, 15, and 5 lux to test how well the Z1050's color accuracy and noise levels were maintained in low light. 60 lux corresponds approximately to a room lit with two soft lamps, 30 lux is on par with light from a single 40 watt bulb, and 15 and 5 lux are very dark and used to test the limitations of the camera's sensor.
Noise levels stayed admirably low at low light levels, though color accuracy did not fair well, hitting a mean color error of 14.7 at 15 lux. The camera could not expose properly at 5 lux, meaning the camera clearly has its limits in low light.
To test long exposures, we set all of our cameras to ISO 400 and to shutter speeds longer than one second. The Casio EX-Z1050 can shoot exposures as long as four seconds, but only in certain scene modes with fixed ISO. It won't shoot exposures longer than 0.5 seconds at ISO 400. In other words, in low light you either must use high ISO sensitivity or trust the scene modes for long exposures.
Dynamic Range*(6.67)

*We test dynamic range by photographing a backlit Stouffer film test chart. This chart is made up of a row of rectangles, each a slightly different shade of gray, arranged from pure white to pure black. The more rectangles the camera can distinguish, the better the dynamic range. We shot this chart at every ISO level to see how the camera performed over its sensitivity range. These values are shown in the graph below, with dynamic range plotted in units of Exposure Value.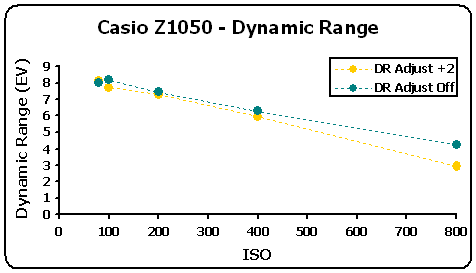 The Z1050 has a Dynamic Range adjustment setting (+2, +1, and Off), which claims to boost dynamic range. Our tests showed that it not only doesn't boost dynamic range, it actually decreases it. With the adjustment off, however, the camera scored pretty well. The dynamic range was quite high at ISO 80 and 100, and then dropped steadily at higher ISO sensitivities. Keep the ISO under 200 to get the most dynamic range out of this camera.
**Speed/Timing

***Startup to First Shot (8.1)*
The Casio EX-Z1050 took 1.9 seconds to startup and take its first shot. This isn't terrific, but it's certainly manageable.
Shot-to-Shot (8.4)
On "Normal" burst mode, the Z1050 takes shots every 1.6 seconds until the card is filled. This is a very slow burst speed, and it's a shame the camera doesn't have a faster full resolution mode. On "Zoom Continuous" mode, the camera takes a photo, and then takes a 3-megapixel crop of it, yielding two final images. In "High" mode, the Z1050 takes 2-megapixel shots every 0.15 seconds. Limiting a 10-megapixel camera to 2 megapixels in order to take a fast burst is a lousy trade-off.
Shutter-to-shot (9.0)
With the shutter held halfway down and pre-focused, the Z1050 takes a photo instantly. Even without pre-focusing, the camera will take the photo in 0.25 seconds.
Processing (7.6)
Each 10MP shot takes 1.2 seconds to process.
Video Performance*(4.10)*

Bright Indoor Light – 3000 lux
We tested color accuracy and noise levels in very bright light by shooting videos of our color charts. The auto white balance was very poor under our tungsten studio lights, yielding a high mean color error of 15.7, and oversaturation of 119.3 percentpercent. Percent noise levels did stay at a low value of 0.41, however.
Low Light – 30 lux
Shooting video of the same color charts with the lights turned down produced slightly better color results than in bright light. Mean color error was 12, a similar value as the results in our low light still image test. However, the color was significantly undersaturated at 83.16percent, and percent noise levels jumped to 1.65.
Video Resolution
The Z1050 can shoot video at a top resolution of 640 x 480 pixels at 25 frames per second, which is slightly slower than the 30 frames per second most digital cameras offer. We shot footage of our resolution test chart and ran the extracted stills through Imatest to determine the resolution in the same way we test still images. The Z1050 resolved 201 LW/PH horizontally with -32.1 percent undersharpening, and 323 LW/PH vertically with -14.5 percent undersharpening. These low values are pretty standard for point and shoot video resolution.
(100% crops)
*Outdoor Motion

*To see how the camera handled motion in video mode we shot moving cars, people, and whatever else darted by our offices. Overall, the Z1050 had good contrast, but lacked fine detail, resulting in a soft image. More significantly, video motion was quite jerky, due to its low 25 fps frame rate. Another distracting problem was that the exposure would jump when objects moved across the frame, resulting in annoying "flashes" of light. This camera can capture video if you need it to, but not well.