Canon EOS Rebel T4i First Impressions Review
$1,199.00
Better than
72%
of Reviewed Digital Cameras

Handling
Menu
The menu on the T4i is the same as on all the other recent Rebel-series Canons. It's comprised of a series of color-coded tabs that are lined up horizontally along the top edge of the menu. Each tab is just a single page, so there are multiple tabs for shooting modes, for example. This is a great system, because in order to scroll between tabs, all you have to do is rotate the command dial. On some other cameras, namely Nikon DSLRs, there are only single tabs for things like shooting settings, requiring the user to scroll through a long list of options to get where they want.
The menu system is now also touch-responsive, owing to the addition of a touchscreen rear LCD. In the main menu this means you can wipe your finger along the top edge of the screen to scroll between tabs. The touch panel is accurate, but for the most part in the menu you should just stick to the standard control. In the quick control menu (brought up by pressing the big "Q" button on the back of the camera), you have instant access to all the current controllable shooting settings, such as exposure compensation and ISO. With the T4i, you can now engage the quick control menu and simply tap the setting you want to change, which does speed up the process somewhat.
Ease of Use
The Canon Rebel series hangs its hat on the ability to be easy to use, especially for those who are first-time DSLR buyers. The T4i follows in this vein, with a control scheme and menu that is functionally identical to the T3i. The T4i comes loaded with a group of automatic and scene modes that would look right at home on any point-and-shoot camera, designed to make the T4i as approachable as possible.
We'd still caution that for real novices there is still a slight learning curve, but the T4i's collection of auto and scene modes gives you a fallback option that will let you explore the camera's functions at your leisure, snapping back to functionality regardless of what changes you've made.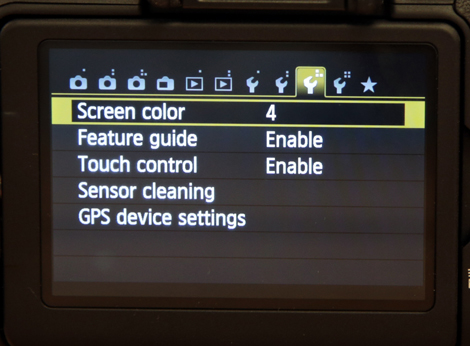 Size & Handling
The size of the T4i is just a hair larger than the smallest DSLRs from Sony, Nikon, and the bottom of Canon's lineup. It's still large enough that you'll want to keep it in a camera bag, and it's certainly too big to fit in a jacket pocket for most people. The size of the grip is great, though, accommodating both small and large hands. The one gripe we have with the T4i would be moving the ISO button on the top plate of the camera further to the left. This just makes it more difficult to press while holding the camera, and was an unnecessary change in our view.