Canon PowerShot SX260 HS First Impressions Review
$349.99
Better than
92%
of Reviewed Digital Cameras

Handling
Menu
The menu system is Canon's typically elegant system, basically the same as it was on last year's SX230 HS or any recent ELPH models. The function menu accesses some of the more common parameters (the icons could be confusing to novice users while ), while less-crucial options are buried in the main menu system. And as always, the scroll wheel is a boon to navigation.
Ease of Use
Canon makes it nice and easy to shoot in Auto mode. Just set the mode dial and fire away. Standard Auto mode allows for some user control, but Easy mode (the heart symbol on the dial) is too limiting for our tastes and doesn't offer any advantages, so it's best to skip it. There's also a "Hints and Tips" feature for casual shooters who want to learn to wield this a bit better.
Hands-on users should find that it's pretty easy to get around, though not as nimble as a truly advanced compact. Program, aperture priority, shutter priority, and manual each have a notch on the mode dial, and the selection wheel makes it easy to adjust exposure settings. A function button or a couple of extra direct-access key would take some strain off of the menu system, but for a point-and-shoot, it's fine.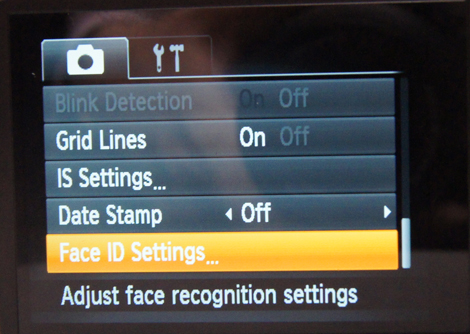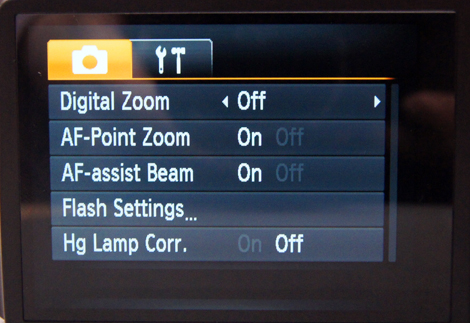 Size & Handling
By travel zoom standards, handling is decent. The rounded edges give it a comfortable in-hand feel, but combined with the smooth finish, it's a bit slippery. There is a vertical grip on the front panel that improves the handling significantly (and it's a big improvement over last year's SX230 HS, which was totally flat).
Like most cameras in this category, a two-handed grip is probably the best way to go. The body is compact (1.29 inches thick) and light enough (213g with the battery and card) for one-handed operation if it's just simple pointing-and-shooting. But if you're making any kind of adjustments—even just rotating the mode dial—you'll want to bring that left hand up for the ride.
The buttons have a nice tactile feedback. Canon ditched the rounded, almost padded feel from the SX230, and the response on this new model is a little crisper as a result. The shutter could be sturdier, but it's fine. The 3-inch LCD isn't touch-based, so the whole interface works through physical buttons.