Canon PowerShot SD870 IS Digital Camera Review
$399.00
Read an expert, independent digital camera review of the Canon PowerShot SD870 IS digital camera.
Related
Testing/Performance
Color*(10.31)

*Most cameras will not reproduce colors with the exact same hue and saturation as the scene you are shooting. Some cameras will shift and oversaturate colors to make them look more vibrant, but at the risk of making them look unnatural. Other cameras will have undersaturated or inaccurate colors. We test color accuracy by photographing an industry standard GretagMacbeth ColorChecker test chart, and comparing the colors the camera reproduces with the known colors of the test chart. The ColorChecker consists of 24 color tiles that represent colors from around the color spectrum. The image below shows the SD870's colors next to the actual colors of the ColorChecker. The outside squares are the colors reproduced by the camera, the inside squares are the actual colors of the test chart corrected for the exposure, and the inner rectangles are the actual colors of the chart under a perfectly even exposure.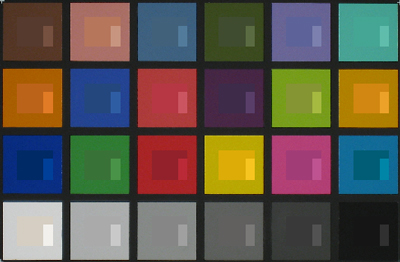 The SD870 IS is most accurate when slightly underexposed, which is why the inner rectangles are brighter than the squares. Many of the colors are very close to their ideals, with the exception of a couple yellows and oranges. The graph below shows color accuracy in a different way. The background of the graph represents the color gamut, and the ideal colors of the chart are shown as squares, while the colors the camera reproduces are shown as circles. The lines connecting each square and circle show the color error.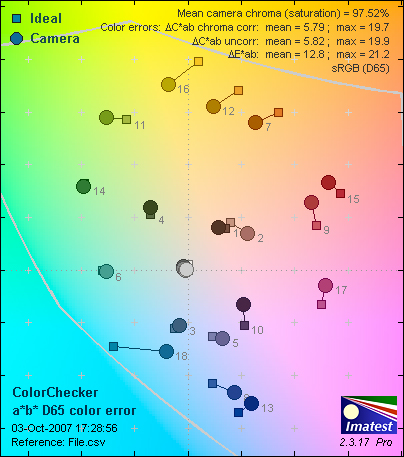 The graph confirms many of the colors are very accurate, though we see a little drift in the yellows and in one blue tile. Blues are often shifted this way to enhance blue skies, and we see this in many cameras. This is a very good color performance, which is evident by looking at the colors in our still life photos, shown further down the page, or sample photos, shown at the end of the review.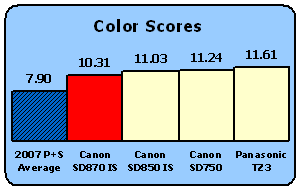 Resolution* (4.53)*
We test resolution by photographing an industry standard resolution test chart at varied focal lengths and exposure settings. We then run the images through Imatest to determine the settings that provide the sharpest images. Imatest evaluates resolution in terms of line widths per picture height (lw/ph), which refer to the number of equally-spaced alternating black and white lines that can fit across a picture frame before becoming blurred.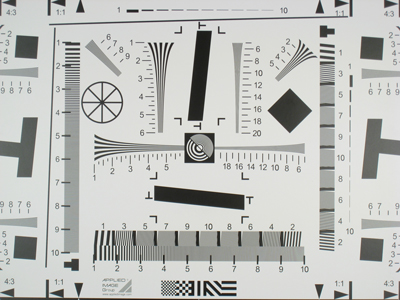 Click to view the high-resolution image
The 8-megapixel Canon SD870 IS has the best resolution at ISO 80, f/5.6, and a focal length of 14.7mm. The camera resolves 1640 lw/ph horizontally with 11.6 percent oversharpening, and 1470 lw/ph vertically with 11.8 percent undersharpening. Not only are these unimpressive resolution numbers, but the sharpening levels are damaging to the image quality. Almost all photos taken with this camera are way too oversharpened horizontally, which introduces white "ghosting" lines along edges of high contrast (click the chart image above to see for yourself). Additionally, the vertical undersharpening leads to soft edges in the other direction. Another problem with the SD870's optical performance is the significant chromatic aberration, or "color fringing,' which is apparent on the edges of images. Overall, the SD870 IS scores poorly in resolution and significantly worse than its predecessor, the SD850 IS.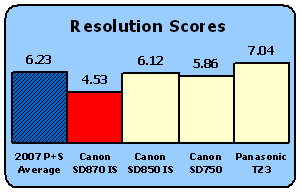 Noise – Manual ISO*(4.89)*
All electronic devices fall prey to signal noise, whether it is the static on a TV, the background hiss of a stereo, or image noise in digital camera photos. Image noise often takes the form of sandy or splotchy patches spread over an image. Noise is always more apparent in low light or at high ISO speeds. We test noise levels by photographing our test chart under bright studio lights at all ISO sensitivities the camera offers. We run the images through Imatest, which measures noise in terms of the percent of image detail drowned out.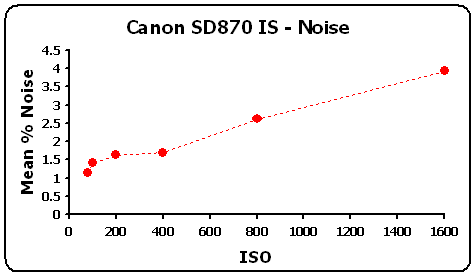 The SD870 IS has very low noise at ISO 80, and manageable noise from ISO 100 to 400. At ISO 800 and 1600, however, noise levels rise to extreme levels. This will be apparent when you click on the still life images further down the page. The noise itself is quite ugly; small sandy white specks litter the images, along with larger colored splotches. This is a camera you want to keep at as low an ISO setting as possible. Overall, the SD870 IS scores lower than average for a 2007 point-and-shoot, but a touch higher than the SD850 IS.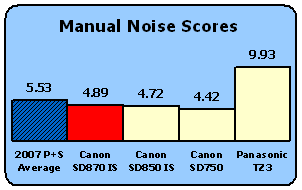 Noise – Auto ISO*(1.45)*
We also test the noise levels of each camera with ISO speed set to Auto. The SD870 IS chose ISO 200 under our bright studio lights, but still produced a significant amount of noise visible when viewed at 100 percent. It is worth keeping this camera at ISO 80 when shooting in bright light, especially if you are thinking of cropping your images or printing them large.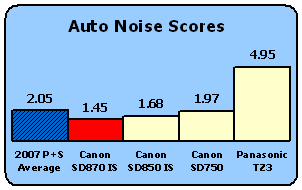 White Balance Performance *(12.63) *
A main contributing factor to color accuracy is white balance. Every kind of light source, from daylight to fluorescent light, has a different color cast, and a camera needs to be able to adjust to that. Cameras often have at least three methods of white balancing: auto white balance, white balance presets, and manual white balance. Manual white balance is often the most accurate, but you need a white or gray card to do it. We test the white balance accuracy of the auto white balance and presets by photographing the ColorChecker test chart under four different types of light: flash, fluorescent, outdoor shade, and tungsten.
*Auto (11.58)

*Set to Auto white balance, the SD870 IS is extremely accurate using the flash, very accurate in fluorescent light, mediocre in outdoor shade, and terrible in tungsten light. However, poor auto white balance is the case for most cameras under tungsten light. Occasionally the yellow cast it gives is pleasing, but it usually isn't. Overall, the SD870 IS does very well in Auto white balance.
Preset (13.68)
The camera has no flash preset, but the Fluorescent and Tungsten preset settings are extremely accurate. The camera is less successful in outdoor shade, where the Cloudy setting gives photos a rather blue cast. Users should be fine putting this camera in Auto in most situations except indoor tungsten, but the presets provide more pleasing colors.
Still Life Sequences

*Click to view the high-resolution images.

*


Low Light*(8.08)*
A lot of image problems don't come out until you use a camera in less-than-ideal conditions, such as low light. We test cameras in low light by photographing the ColorChecker at light levels of 60, 30, 15, and 5 lux. Sixty lux is about as bright as a room lit softly by two lamps, 30 corresponds to a room lit by a single 40-watt bulb, and 15 and 5 lux are low light levels that test the limits of a camera's sensor. All shots are taken at ISO 1600.
Color accuracy holds up very well in low light. It is less accurate than in bright light, but still more accurate in low light than some point-and-shoots are in bright light. Noise levels are extremely high, which is why you should avoid using this camera at ISO 1600 whenever possible. However, shooting at such a high ISO speed is the only way to capture an even exposure at 5 lux, which the SD870 IS is able to do with no problem.
We also test long exposure performance in low light, at ISO 400. The SD870 IS has a Long Shutter option hidden in the Exposure Compensation settings under the Function menu. The Long Shutter option allows shutter speeds from 1 to 15 seconds long. Color accuracy suffers a bit in long exposures, but noise levels are very reasonable. It is almost impossible to manually white balance accurately when in Long Shutter mode and there is no light meter telling you if your exposure is even, but it is still a fun addition to the camera.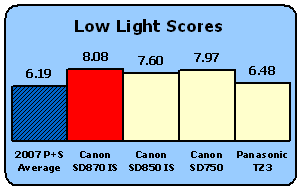 Dynamic Range*(4.82)*
Dynamic range is an important image quality factor that tells the breadth of gray tones a camera can distinguish. Good dynamic range is very important in shooting situations with high contrast, because you want to see detail in bright highlights as well as dark shadows. This comes up often in wedding photography (white dress and black tux) or outdoor photography in bright sunlight (brightly lit highlights and dark shadows). We test dynamic range by photographing an industry standard Stouffer test chart at all ISO speeds. The Stouffer chart consists of a long row of rectangles, each a slightly darker shade of gray, varying from brightest white to darkest black. A camera has better dynamic range when it can discern more rectangles.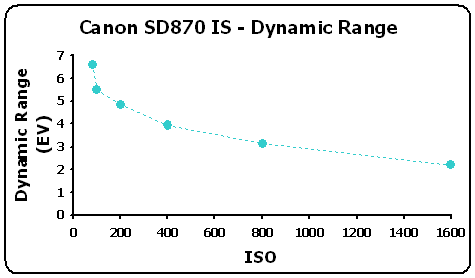 The SD870 IS has solid dynamic range at ISO 80, but falls off quickly at higher ISO sensitivities. If you are shooting high contrast scenes, keep this camera on ISO 80. At higher ISO speeds, the high noise levels drown out detail in the dark areas of the photos. Overall, the dynamic range is below average, and not any better than the SD850 IS that came before it.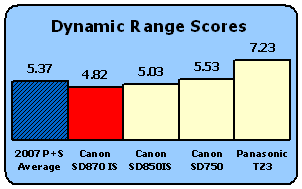 **Speed/Timing **– All speed tests are conducted using a Kingston Ultimate 120X 2GB SD Card, with the camera set to highest resolution and best quality.
Startup to First Shot (8.9)
The SD870 IS takes 1.1 seconds to star tup and take a shot.
Shot-to-Shot (9.25)
In Continuous shooting mode, the SD870 IS takes photos every 0.75 seconds until the card is filled.
Shutter-to-Shot (9.0)
The camera has no measurable lag when the shutter is held halfway down and prefocused. When not prefocused, the camera takes 0.2 seconds to snap a photo.
Processing (8.4)
The SD870 IS takes 0.8 seconds to process one full resolution superfine 3.2 MB photo taken at ISO 160. This is an impressive speed, and helps users take repeated photos quickly.
Video Performance*(5.03)
Bright Indoor Light – 3000 lux*
We test the Movie mode in bright light by recording footage of our color charts under evenly lit studio lights set to 3000 lux. Under tungsten lights, the SD870 IS has a frightening color error of 22.9, but this is actually common for cameras set to Auto white balance shooting under tungsten lights. Colors are also highly oversaturated in bright light video, making them vivid but unnatural. Noise levels in bright light are very low.


Low Light – 30 lux
We also record footage in low light to see how the camera performs. Interestingly, SD870 IS has much more accurate colors in low light, with a mean color error of 12.3. Again, colors are quite oversaturated as well. Noise levels are fairly high, but manageable.


*Resolution

*We record video footage of our resolution test chart to see how sharp it is. Video resolution is always worse than still image resolution, because videos are shot in Standard definition, which is 640 x 480 pixels compared to the 8 megapixels in still photos. In Video mode, the camera resolved 324 lw/ph horizontally with 4 percent undersharpening, and 378 lw/ph vertically with 7.4 percent oversharpening. These are very reasonable sharpening levels, and the crops below show how sharp the footage looks. It certainly isn't amazing, but it looks better than a lot of camera video.
Outdoor Motion
To test video performance in real life scenes, we take cameras down to the street and capture footage of moving cars and pedestrians. The SD870's outdoor motion looks fantastic for a digital camera, showing great color reproduction, even exposure, excellent detail, very little moiré, and none of the highlight streaking we see in other camera video. It is still not camcorder quality, however, as you will see some jerkiness of moving objects leaving the frame. Overall, the video motion looks great, and caps off an impressive video performance.