Canon PowerShot ELPH 510 HS Digital Camera Review
$349.99
Better than
50%
of Reviewed Digital Cameras
Noise
The way the 510 HS renders unwanted image noise is very even keel across the ISO spectrum, and this is desirable since many small cameras are prone to drastic and intrusive noise reduction software. Sadly, even though noise behaves properly, overall artifact levels are too high. Only ISO 100 comes away with less than 1.00% noise in normal light, with rates as high as 1.91% at the ISO 3200 maximum. More on how we test noise.
On average, noise rates are a little over 12% worse when subjected to our 60 lux low light test, a fairly wide gap that we don't always see. In fact, many cameras actually offer superior noise performance in these conditions. The behavior of noise reduction is the same however, progressing slowly and linearly from ISO 100 up to 3200.
The Canon S100, an excellent alternative to the 510 HS (without the 12x lens), is the statistical winner here, trailed closely by the Casio EX-ZR100. Casio's fast-shooting travel zoom actually takes the most attractive shots at lower ISO's, while the S100 is victim to ugly haloing and edge enhancement at default settings. On the other hand, the S100 is able to retain clean geometry all the way up to ISO 3200, so there's a tradeoff here. Our PowerShot 510 HS performs almost as well as the S100 at low ISOs, but begins to introduce distracting noise by ISO 800.
ISO
ISO settings of the 510 HS extend from 100 to 3200, pretty average for a modern camera in this price range. All Program mode levels are full resolution. Using the Low Light scene mode, ISO values of up to 6400 are possible, however this limits resolution to three megapixels.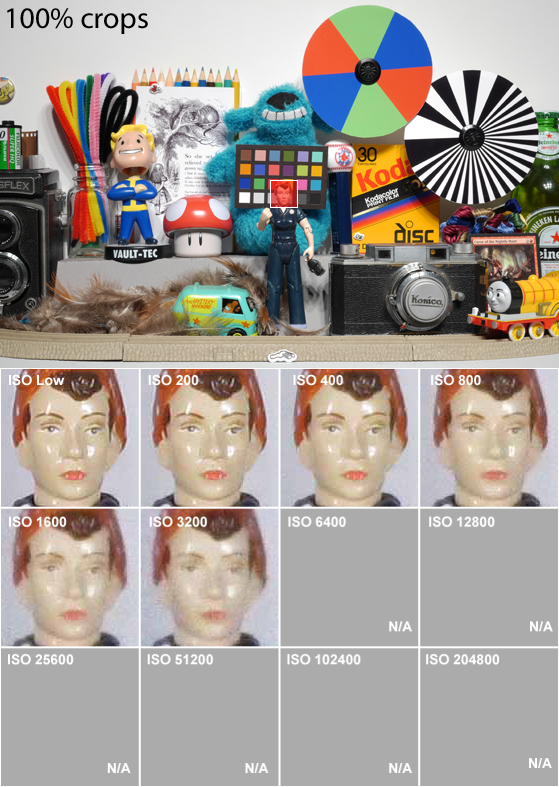 NOTE: The images above are not used in our testing or scoring, but are included here to show real-world examples of the differences between cameras at the various ISO settings.