Canon PowerShot D20 First Impressions Review
$349.99
Better than
62%
of Reviewed Digital Cameras
Modes Overview
The Canon D20 doesn't have any full manual modes, but it has an automatic Program mode that lets you adjust some controls. Then there's the dedicated auto mode (called Smart Auto), a few different movie modes, and decent variety of scene modes. Accessing the modes selection menu is awkward, as it requires you to press "up" on the d-pad, which then displays a list of the shooting modes on the LCD.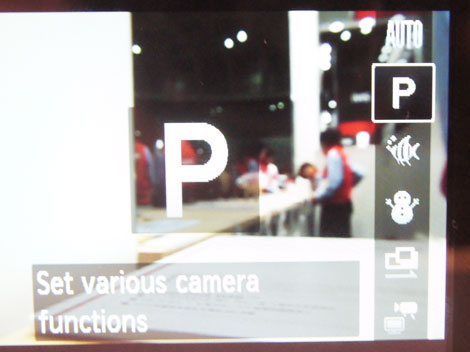 Auto Mode
Canon calls its dedicated auto mode "Smart Auto", and it uses this same label on both its cameras and camcorders. The Smart Auto function basically puts the D20 under entirely automated control so you don't have to worry about picking a scene mode or adjusting exposure yourself.
Movie Mode
There are a variety of movie modes on the Canon D20, but the most important thing to know is that the camera can record Full HD 1080p video. In addition to 1080p (which records using a 24p frame rate), the camera also has a 720/30p video mode and a standard definition record mode that shoots at a 640 x 480 resolution. But wait, there's more! The D20 also has two miniature effect video record modes and two low-quality super slow motion move modes (one at 240fps and one at 120fps). This is quite a lot of movie modes to pack into a little waterproof camera.
Drive/Burst Mode
The fastest shooting mode on the D20 is the camera's high-speed burst mode that can capture approximately 6.8 photos per second. In regular program mode you can also shoot continuously at just under two photos per second with the camera. Additionally, the Canon D20 has a custom self-timer that can be set anywhere from 0 - 15 seconds in one second increments, as well as an option for 20, 25, or 30 second timers. You can even select the number of shots you want the camera to fire when the self-timer goes off (from one to ten shots).
Playback Mode
Canon didn't skimp on the playback controls with the D20, so you can expect to find nearly everything you're looking for when you review your still images and videos. There's an auto rotate feature that will orient the photo to match the way you hold the camera during playback, and there's a whole slew of effects and tools that you can add using the Image Advance function. You can also digitally zoom up to 10x on captured photos, remove red-eye during playback, trim and resize clips, and organize your photos in a variety of different ways. For video playback, you can perform some minor edits and play videos back in slow motion if you desire.
Picture Quality & Size Options
The Canon PowerShot D20 has a 12-megapixel sensor, so the largest still image the camera can capture is a 4000 x 3000 photo (that's a 4:3 aspect ratio). The camera has fifteen other photo size options and in addition to taking photos in the 4:3 aspect ratio, the camera has options for 16:9 widescreen photos, 3:2 photos, and 1:1 photos. Each aspect ratio has one large photo option, two medium size options, and one small option. This is both an extensive set of photo size options and a good set of aspect ratios to choose from, but the 12-megapixel limitation for the camera isn't great compared to the competition.