Canon EOS M First Impressions Review
Modes Overview
The Canon EOS M hides most of its shooting mode selections deeper in the menu than more advanced users may like, offering just a physical mode switch on the top plate of the camera to switch between automatic, a chosen shooting mode, and video recording.
That said, the camera does still offer a full complement of auto, scene, video, and PASM modes, with a level of control right up with their entry-level T3 camera. The design is still aimed largely at users looking for a simple experience, with the physical switch more of an "eject" button—if you screw up a setting and need to just take a photo or video, you can switch from the more useful standard shooting mode back to full automatic or video mode.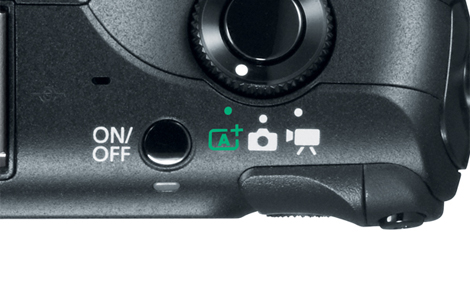 Auto Mode
The Canon EOS M's full auto mode handles all the heavy lifting for you, as far as shooting options are concerned. The EOS M's full auto mode will decide focus, exposure, and ISO all automatically. This turns the camera into a simple to use point-and-shoot camera, just as it does on the Canon S100.
Movie Mode
The EOS M's video mode is almost exactly the same as on the company's new Rebel T4i, with 1080/30p, 720/60p (amongst other frame rates/resolutions), full manual control, and autofocus built right into the image sensor. The camera also features audio level control, with a built-in stereo microphone and 3.5mm microphone port for recording sound.
The rear touchscreen on the camera can be used to touch-to-focus when shooting video, as well, with the new focus system working especially well with Canon's STM lenses and their stepping motor. With these lenses the camera doesn't have much trouble employing its hybrid AF to lock onto stationary subjects. Autofocus is still contrast-dependant, though, so moving and low contrast subjects will give it some trouble.
Video is recorded in MPEG-4 H.264 AVCHD as a .MOV file, with the camera's creative "picture styles" in operation even during video capture.
Drive/Burst Mode
The Canon EOS M has the ability to fire at up to 4.3 frames per second, giving it a little more speed than entry-level DSLRs but a little less than the mid-range Rebel T4i. As with other cameras, that appears to be only when focus and exposure are locked in with the first frame. In our time with the camera we found it to be quite responsive, though the model we were allowed access to did not have final firmware or a totally pinned down internal design, so that is all subject to change, of course.
Playback Mode
Playback on the EOS M seemed fairly standard, for the model that we were able to use. As we found on the Canon Rebel T4i, the touchscreen functionality of the screen allowed for easy swiping between shots, with pinch-to-zoom functionality as well. There wasn't much in the way of editing but, again, nothing in the firmware was totally final.
Picture Quality & Size Options
The Canon EOS M shares the same image sensor as the Canon Rebel T4i, with a maximum resolution of 18 megapixels in a 3:2 aspect ratio. The camera shoots both RAW and JPEG (or RAW+JPEG, naturally), with options for normal or compressed JPEGs.