Canon EOS M First Impressions Review
Handling
Menu
The menu on the Canon EOS M is pulled straight from their DSLRs, with a number of tabs color coded and arranged horizontally along the top of the screen. The tabs each have symbols associated with them, indicating the kinds of options (playback, shooting, etc.) that are included on the screen. This setup means you can move between tabs easily, without ever having to scroll down a long list to see options that are hidden off screen. It speeds up menu navigation and makes it easier to learn where various options are. It will seem a little alien to users who are actually stepping up from a Canon point-and-shoot, but if you've used a Canon DSLR at all, you should feel right at home with the EOS M.
Ease of Use
The Canon EOS M is designed, quite simply, to be the easiest to use mirrorless camera on the market. With the simple control scheme of a Canon point-and-shoot and the intelligent layout of Canon's DSLRs, the EOS M is about as simple to use as it gets. It lacks the customizable setup, physical dials, and secondary control dial that many advanced mirrorless cameras have, but this should appeal to entry-level users who really just want a larger sensor and interchangeable lenses in a package they're familiar with.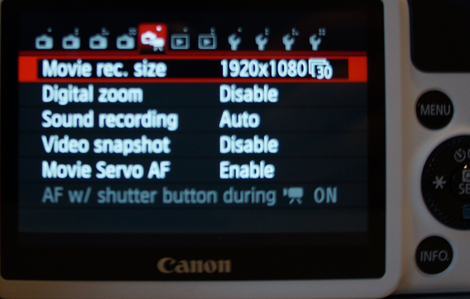 Size & Handling
Asked by a co-worker to describe the EOS M when I first saw it (since pictures were not available), I called it a chunky S100. Indeed, it is a slightly fleshed out design that is greatly reminiscent of Canon's premier point-and-shoot. If you're comparing the two side-by-side you'll notice that the EOS M is a little thicker, a little broader, and a littler heavier, but retains the same rectangular, boxy design of its point-and-shoot cousin.
The EOS M handles well, though we wonder if the grip is enough to sustain it with longer telephoto lenses. We were able to see it with the 22mm f/2.0 lens and the 18-55mm f/3.5-5.6 lens—thus far the only EF-M lenses that have been revealed—as well as with the EF/EF-S adapter and Canon's new 40mm f/2.8 "short forty" lens. The grip, while not substantial by any means, was enough to control those lenses confidently.
We'll discuss the lens adapter in more detail later in this review, but we wonder if longer, heavier EF-S lenses are going to be as easy to shoot with. Canon did mention the possibility of third-party grips that have been popular options on other compact system cameras, so we wonder if they're wondering what the market will cook up to combat the fairly obvious problem of a point-and-shoot's grip on a body that can attach full DSLR size lenses. Once we get our hands on a production-level sample, we'll throw on some heavier glass and see how she handles in the real world.