Canon EOS 6D Digital Camera Review
$2,099.00
Better than
89%
of Reviewed Digital Cameras

Hardware
Kit Lens & Mount
The 6D may be kitted with Canon's EF 24-105mm f/4.0L IS USM lens, which is a very high quality piece of glass that features optical image stabilization. The barrel features two switches on the left side, one for auto / manual focus, and one for stabilization. The zoom ring is a little thinner than we wanted, but both rings have smooth action, and there's a small window in between them that shows focus distance.
Canon's long-running EF mount is in use here, as expected, and it's compatible with EF lenses only, EF-S lenses will not work. The mount is all metal, and a lens release is easily accessed with the left hand.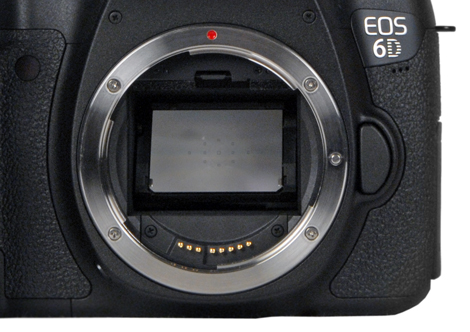 Sensor
The 6D's full-frame sensor is just as large as the image area on a 35mm frame of film, and due to the high manufacturing cost of such chips, here's where most of this camera's $2100 MSRP is put to use. Effective resolution is 20.2 megapixels, more than the 1D X but, importantly, less than the Nikon D600. A fact that is partly responsible for this camera's sharpness scores.
Convergence areas of different sensor sizes compared
Viewfinder
A bright, fixed pentaprism viewfinder resides at the peak of the rear panel, and it features both diopter adjustment and removable eye cups. All 11 focus points are represented as boxes on the focus screen, so that your subject isn't obscured. Each focus point lights up individually and precisely when a lock is achieved, in contrast to the generalized red light that Nikon SLRs use. Coverage is 97%.
Display(s)
An accurate 3.0-inch LCD resides on the rear panel, protected by an anti-reflective resin layer that's flush with the rest of the panel. Pixel count is 1,040,000 and frame coverage is approximately 100% according to Canon.
Connectivity
A cluster of connectivity ports is found underneath two rubber stoppers on the left side of the body. These include a remote control terminal, external microphone input, USB terminal with A/V output, and an HDMI output. There's also a hot shoe mount at the top of the body.
Memory
The 6D records data to SD, SDHC, or SDXC memory cards, and is compatible with Eye-Fi cards as well. Only one card slot is available, found underneath a locking door on the right side of the body.