Canon ELPH 100 HS Digital Camera Review
$199.99
Noise
The 100 HS produces slightly less noise than we typically see in this class. Across all ISO settings and lighting conditions in our tests, the 100 HS produced an average of 1.25% noise, which is respectable. Base ISO shows more noise than we'd like to see, and the levels consistently increase throughout the range (as expected). But at the top setting of 3200, noise is well controlled—it never crept past 2% in any of our test images. And thanks to a smart noise reduction algorithm, shots are generally eye-pleasing up until ISO 800, arguably even at ISO 1600. More on how we test noise.
It's tough for a camera with a small sensor and an average lens to gather light in dim settings, so we weren't surprised to find that the 100 HS produces more noise in poor lighting than in strong lighting. Shots showed an average of 1.19% noise in our 3000 lux test and 1.28% in our 60 lux test. That's about 8% more noise in low light, enough to be noticeable.
Compared to point-and-shoots in this price range, the 100 HS finishes in the middle of the pack. Among the cameras we've chosen for our comparisons, the 100 HS looks a bit lackluster in the chart below. But trust us when we say that the 100 HS outperformed a bunch of other pocket shooters in our noise test.
Of particular note, the 100 HS comes up right behind its more expensive sibling, the 500 HS. Their results at 3000 lux are very similar, though the 500 is the clear winner in low light thanks to its brighter f/2.0 lens.
The Panasonic FP5 shows much less noise than the 100 HS does, but that appears to be a result of aggressive image processing. We prefer the 100 HS's smoother, more consistent images.
ISO
The 100 HS offers full-resolution ISO settings from 100 to 3200, adjustable in the quick menu. There is, of course, an automatic ISO option. While there isn't an option to cap the Auto ISO level, the 100 HS meters conservatively and rarely selects the top ISO 3200 setting. There's also a reduced-resolution (3 megapixel) 6400 setting, available as the Low Light scene mode.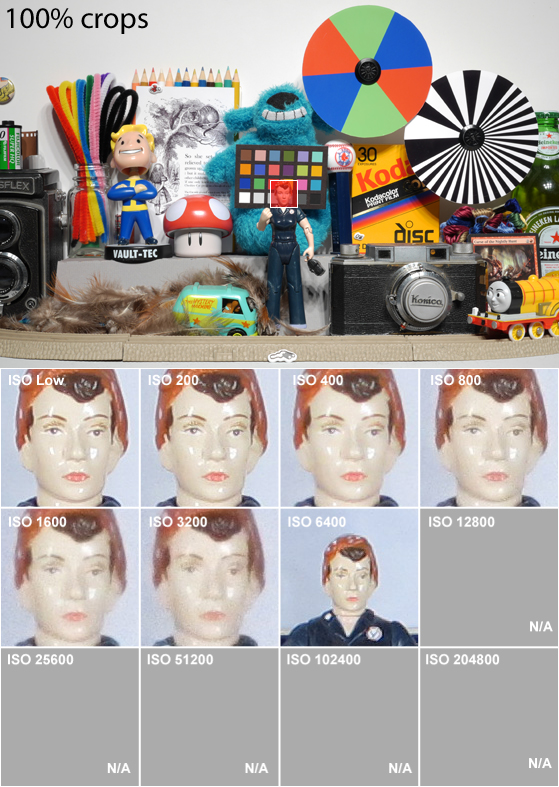 NOTE: The images above are not used in our testing or scoring, but are included here to show real-world examples of the differences between cameras at the various ISO settings.